Dubai Desert Classic: Staggering £2.5million prize on offer for hole-in-one at 17
Those who make the cut at this week's Dubai Desert Classic will have a shot at an amazing $2.5million hole-in-one prize.
Last Updated: 29/01/14 3:43pm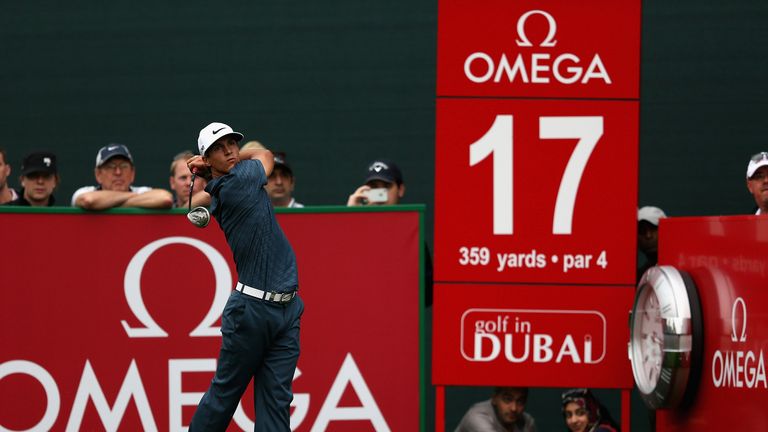 The penultimate hole on the Majilis course is a 359-yard par four off the back tee and many players see it as a good scoring opportunity and a chance to pick up a vital late birdie.
But for those who make it through to the weekend and play the final two rounds, there'll be an added incentive.
The tee will be moved forwards so it plays 325 yards and anyone managing to score a hole-in-one will bag that amazing $2.5million (just over £1.5million) hole-in-one prize.
From the tee, players cannot see the green or the flag, so will face a blind shot if they go for it. They'll also need to blast their drives over all the scrubland as well as the palm trees that line the fairway.
The big question is whether players will take the risky play on in the final round when they're in contention to win the tournament.
Incentive
Here's what some of this week's field had to say:
Tournament favourite and 2009 Dubai champ Rory McIlroy: "You've got to go for it! It gives us an incentive, I mean 325 (yards) for a few guys out here is doable."
World number three and 2007 Dubai winner Henrik Stenson: "Two-and-a-half million, that always gets your interest, doesn't it."
Former Dubai Desert Classic winner David Howell: "Well, that's incredible, isn't it, for one shot and it could be a lucky one at that. Dubai, the land of riches!"
Abu Dhabi winner Pablo Larrazabal: "Two-and-a-half million, I'm going for it. Why not!"
Defending champion Stephen Gallacher: "My gameplan's always been to hit down the left but I think I might be tempted into having a shot for that now."