Dubai Desert Classic: Tiger Woods unworried by missed cut at Torrey Pines
Tiger Woods insists he has no concerns over the state of his game despite last week's horror show at Torrey Pines.
Last Updated: 29/01/14 2:08pm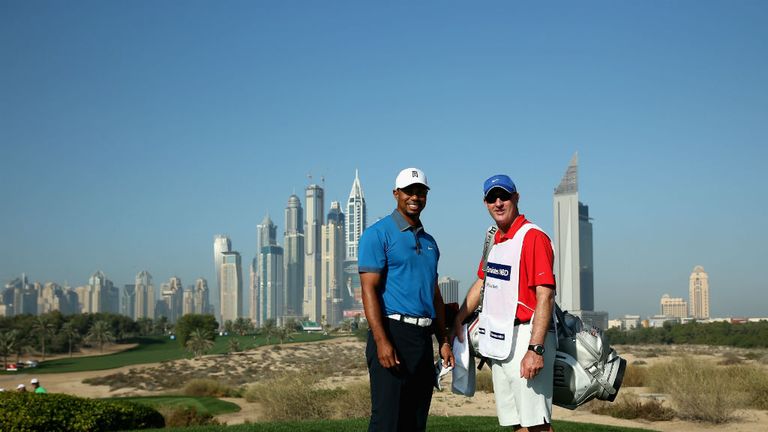 The world No 1 is one of the main draws at this week's Dubai Desert Classic, but heads into the European Tour event on the back of a missed cut on his seasonal debut.
Woods started as a red-hot favourite at old stomping ground Torrey Pines but, after opening with rounds of 72 and 71, he slumped to a woeful 79 in the third round which saw him miss the secondary cut.
However, the 38-year-old has played down the significance of his display and claims he is expecting to go well in Dubai - a tournament he has won twice previously in 2006 and 2008.
Asked what he had done in the wake of his performance at Torrey Pines, Woods told reporters: "I just went home and had a nice day off, worked on my putting a little bit in the backyard and that was that.
"I know I'm not that far off. Just had one of those days and that happens. The longer you play this sport, the more things like that happen.
"I was just a fraction off, and a fraction off on a golf course set up that hard, it bit a lot of us, and unfortunately it bit me pretty hard. I think the average score was just over 73 on Saturday, and I shot 79.
"I needed to make a few changes, just a few slight adjustments, and I did that, and I had unfortunately Sunday off, so I had a chance to go home and hit a few shots.
"I came out here and just wanted to improve every day. Tuesday was better than Monday, and Wednesday was better than Tuesday. Hopefully tomorrow will be even better than today."
Woods has been drawn to play alongside Rory McIlroy for the first two rounds this week with the Northern Irishman looking emulate the American by landing the title for a second time after his triumph in 2009.
McIlroy upbeat
McIlroy arrives in upbeat mood after his runner-up finish in Abu Dhabi, although acknowledged that result still rankled somewhat given he was hit with a two-stroke penalty.
"I have started off the year well," McIlroy said. "I was a little disappointed coming off the second place in Abu Dhabi. I felt like I should have won but there were a lot of positives to take from the week. I played very well.
"I felt like I could have done a few things better which I have worked on over the last week to go into this tournament in Dubai, but all in all I am in a good place and really looking forward to 2014.
"It's always good to get a win early on in the season, and it would be nice to be up there at least and challenging for the trophy on Sunday.
"The Dubai Desert Classic has always been a tournament that I've liked to come and play. I played twice as an amateur here in '06 and '07, so the tournament has been very good to me giving me those invites and it was fitting in a way that I won my first tournament here as a pro in '09.
"I felt like working on the range, especially with the new clubs, was going to be better for me than actually playing tournaments and it was probably the other way around.
"It's nice to come back. I sort of missed it last year. I think I've alluded to that a few times."
Meanwhile, McIlroy added he was delighted to see his Nike stablemate tee up in Dubai after an absence of two years and backed him to quickly rediscover the form that saw him win five time last season.
"It's great to have him here (in Dubai)," said McIlroy of Woods' return. "He got off to a bit of a slow start to the season so he will be wanting to make up for that this week.
"I think he has still got a few good years left so I am looking forward to battling with him down the stretch a few times."