Dubai Desert Classic: Rory McIlroy was delighted with his opening round of 63
Rory McIlroy said he was not far off his best form after opening the Dubai Desert Classic with a scintillating 63.
Last Updated: 30/01/14 3:42pm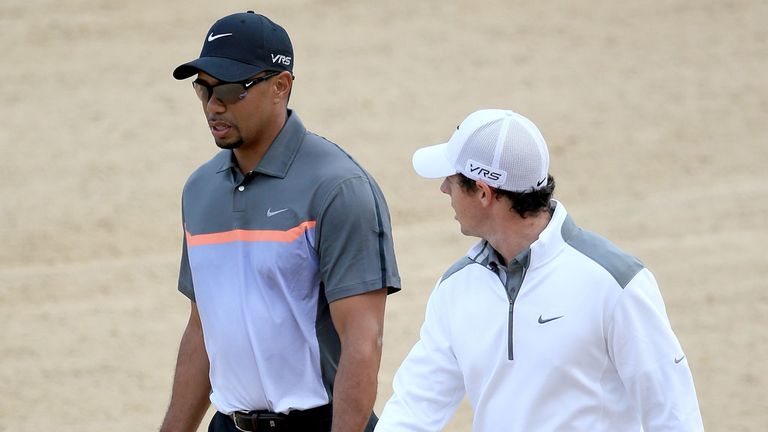 The two-time major winner had a difficult 2013 but has begun the new year on a brighter note and he laid down a marker to playing partner Tiger Woods and the rest of the field with a round highlighted by an eagle at the third hole - his 12th.
Five birdies on his front nine and two more coming home gave the early starter a clear clubhouse lead - and he could barely conceal his delight.
"It was really nice, I played really well from tee to green and drove the ball really well again," he told Sky Sports.
"I only missed a couple of fairways and one green, and took advantage of how I'm driving the ball. I just need to keep it going for the next three days.
"It's close. I've shot a couple of good rounds this year - obviously this is lower than what I went in Abu Dhabi but I'm very comfortable with my game."
He and Woods, who went round in 68, have always got on well and once again the pair looked happy in each other's company.
"We usually find a lot to talk about," McIlroy added. "He's a true pro and knows there's no pictures on the scorecard. He started hitting it a lot better and to shoot the score that he did after the first few holes was a great effort."
Frustrated
Woods struggled with the driver but made some great saves and birdied the three par fives on the back nine to be out in four-under, but was left frustrated by making nine straight pars coming home.
"I probabaly could have got a couple more out of it, I missed a couple of putts for birdie from about 10 feet," he said. "I didn't hit a bad putt today which was nice, it was just the grain grabbed it pretty hard sometimes."
Woods swing is still a work in progress under coach Sean Foley and although the driver let him down on occasions the American is pleased with the direction he is taking.
"I was trying to hit pull-cuts - I got the pull right, I just didn't get the cut right," he said of some of his drives. "So I just aimed further right on the back nine and they were getting out there.
"It was nice to start getting that hot cut again. We didn't like where I was with my last coach. It (the swing) got way too long and I've always played best from a shorter position.
"In my younger days on tour it was even shorter than what it is now, the only difference now is I can't 'wheel' on it -I used to snap my knee at the end to get the power and rotation.
"If I did that now I'd ruin the knee and that's why I had so many operations on it."