European Tour chief George O'Grady hits back at Ivan Ballesteros' EurAsia Cup claims
European Tour chief executive George O'Grady has rubbished suggestions he labelled the new EurAsia Cup as 'a mistake'.
Last Updated: 05/02/14 2:45pm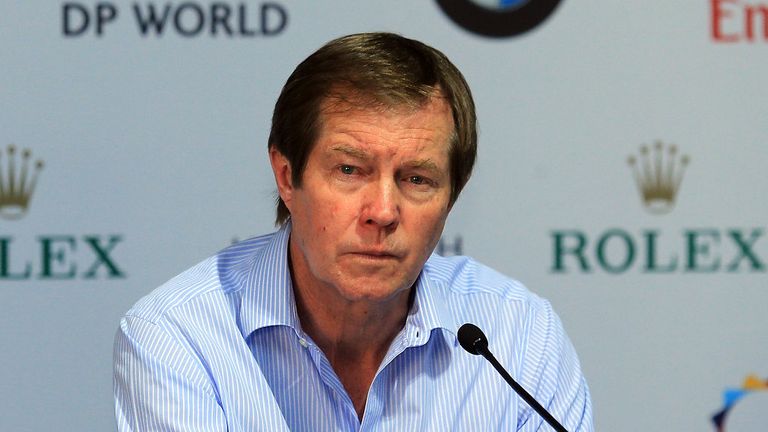 O'Grady hit out over comments attributed to Ivan Ballesteros, co-managing director of the rival Royal Trophy, who allegedly claimed the European chief said having to Europe v Asia events was 'unsustainable'.
The EurAsia Cup, which holds its inaugural event in Malaysia next month is a 10-player-a-side tournament based on the Ryder Cup format, similar to the Royal Trophy, now in its eighth year, which has eight players in each team.
"I categorically refute the comments that Ivan has attributed to me stating that the EurAsia Cup is a 'mistake' and 'not sustainable'," said O'Grady in a statement.
"It is simply not the case. We are very much looking forward to the initial playing of the match next month where two excellent teams are coming together under the captaincy of two of the greats of the game, Thongchai Jaidee and Miguel Angel Jimenez."
Organisers of the Royal Trophy, inspired by the late Seve Ballesteros, are said to be furious at the creation of a new tournament, and they were reportedly unhappy when O'Grady claimed the late Spanish great would have 'cherished' the EurAsia Cup.
On Tuesday Ivan Ballesteros, Seve's nephew and former manager, said the European Tour had told him 'the launch of the EurAsia Cup has developed into a silly situation and that they want to get this sorted.
"They said that this was an initiative driven by the Asian Tour and that two Europe versus Asia events are not sustainable."
O'Grady admitted the 'cherished' comment, made in an email interview with news agency AFP last December, had been released without his approval, adding the European Tour had stopped sanctioning the Royal Trophy because of disagreements with its promoters, including over TV rights.
"The commercial structure of the EurAsia Cup offers The European Tour a tremendous opportunity to further develop business interests, including television rights, in a part of the world where our existing relationships and partnerships are already strong," he said.
"Just as The Ryder Cup delivers substantial benefit in many ways to the Tour and to the countries chosen to host the match, as the EurAsia Cup develops, it is our hope that the countries chosen over the years to showcase the contest will also benefit from a similar legacy."