Henrik Stenson says he will not feel extra pressure being top seed at WGC Match Play
Henrik Stenson insists his status as top seed will not add any additional pressure at this week's WGC Match Play.
Last Updated: 19/02/14 11:38am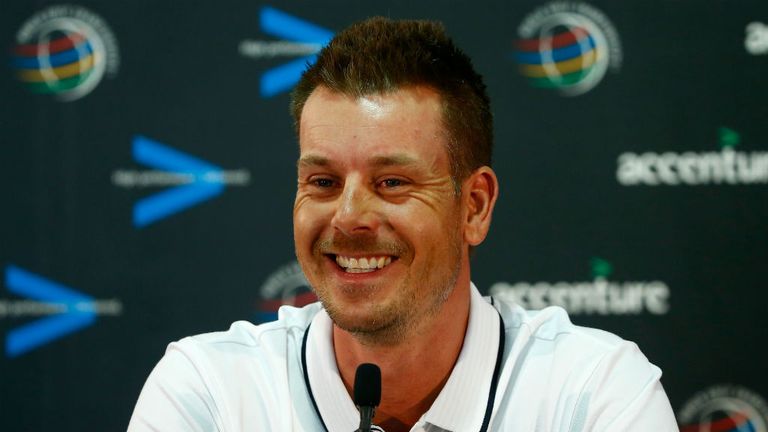 His phenomenal performance at the end of last season - when he won both the Race to Dubai and FedEx Cup series - saw him establish himself back amongst the game's elite.
Currently sitting at No.3 in the world, Stenson is the highest-ranked player in the field in Arizona with the two men above him, Tiger Woods and Adam Scott, having opted to skip the event, along with No.4 Phil Mickelson.
A winner of the tournament back in 2007 much will be expected of the 37-year-old Swede, but he has adopted a philosophical view ahead of his first-round clash with Thailand's Kiradech Aphibarnrat.
"We know you can shoot 64 and someone else shoot 63 and you're going home," Stenson stated. "You can shoot 74 and you still squeeze by because the other guy is having a worse day than you are having.
"You've got to be able to squeeze by on the matches when you're not playing that well. Hopefully you'll win the ones where you're playing well. It's all about timing in that sense."
Of his top ranking, he added: "I don't think it makes a difference for me here. If you're going to have a good week, you need to play well.
"You need to have better luck on your side and it doesn't really matter if you're No. 1 seed or if you're No. 50 coming into this week."
Kuchar excited
Defending champion Matt Kuchar echoed Stenson's sentiments, but claimed he still relished the cut-throat nature of the competition.
"I love the format, it's good for golf," said the American who defeated Hunter Mahan in last year's final. "It makes for some real exciting matches, makes for something just different than four rounds of 72-hole stroke play.
"I could love the format, play great Wednesday morning, and still go home Wednesday afternoon. It's one of those unique, interesting formats. You've got to beat your opponent, play better than your opponent that day."
Kuchar arrives in Arizona on the back of an characteristically poor performance at the Northern Trust Open in Los Angeles - remarkably resulting in his first missed cut in 30 PGA Tour events.
There were mitigating circumstances, though, as the 35-year-old revealed he had been implementing some swing changes which he is confident will help him improve on a stellar 2013 season.
"I came to LA a little under-prepared, but had a couple of meetings with my instructor Chris O'Connell, and we worked a week before the tournament on some new stuff. I put it right into play. I liked it, and I'm excited about it," he said.
Asked to explain the changes, he added: "Just trying to open the club up a little more and lay it off a little more.
"My work is to always get the club lower, tighter, more around to the left in the through-swing. I just don't think I knew exactly how to control the misses (last week). I just didn't have enough time to put something new in play.
"But by the same token, I'm going to keep it in play because I know it's going to be better in the long run. I'm not real concerned. Had a lot of pride in not missing a cut in over a year but it's time to start a new streak, I guess."