First day's play at Madeira Islands Open postponed due to heavy fog
Heavy fog prevented any play on the first day of the Madeira Islands Open at Santo da Serra.
Last Updated: 08/05/14 6:52pm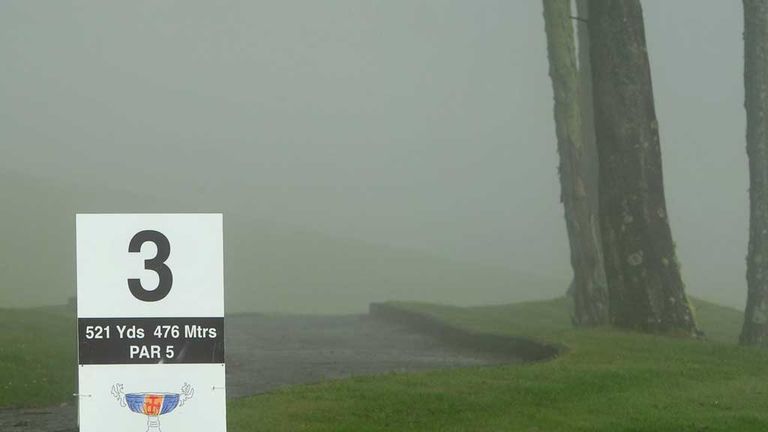 Tournament officials at the high-altitude venue were forced to abandon play for the day at 5pm local time.
Tournament director Jose Maria Zamora revealed the visibility was reduced to around 50 yards on five holes on the higher parts of the course, which sits over 2,000 feet above sea level.
"We have abandoned play today because five of the holes have been unplayable all day due to the fog," said Zamora in a statement on the European Tour website.
"Basically, 13 holes of the holes have been playable for much of the day but five of the holes higher up the mountain - one, nine, ten, 11 and 18 - have had no visibility all day.
"The decision to call it at 5:00pm was taken because the players have been sitting in the clubhouse for more than ten hours and it looked like it the fog was going to remain for the rest of the day.
Start afresh
"There is a point where the guys get tired so it's best that they get back to their hotels and start afresh on Friday."
European Tour on-site weather forecaster Guy Nestor was hopeful that the conditions would improve over the next three days.
"We expected today's fog to hang around until around noon," he said. "But for it to last this long into the afternoon was a little unexpected.
"But as the day went on there was a bit of an inversion plus some more cloud cover coming in from the north east, so there were a lot of variables that caused the issue here today.
"I do expect some fog on Friday morning, but the one thing that will help is that I do see some clearing of cloud cover, so that should allow for the sun to move through and heat the surface up and that will hopefully lift any fog.
"Saturday and Sunday I expect more sunshine. Some clouds will come through at times but I expect it to be very different to what we had today."