BMW PGA Championship: Thomas Bjorn eyes place in Europe's Ryder Cup team
Thomas Bjorn has his sights firmly set on playing in another Ryder Cup this year after his flying start at Wentworth.
Last Updated: 23/05/14 8:32am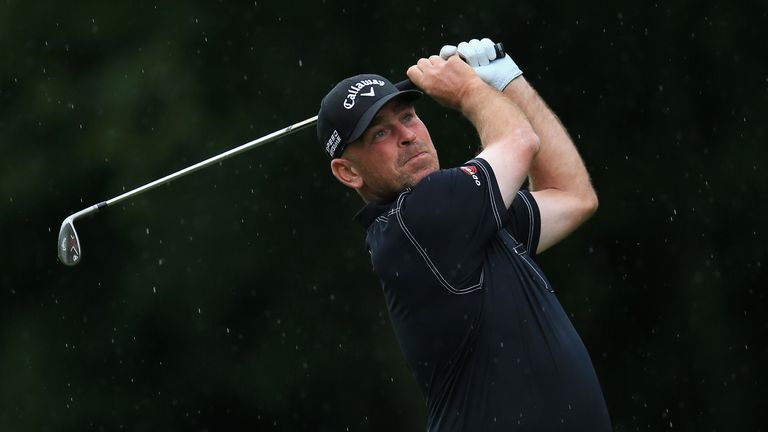 The 43-year-old Dane shot a sparkling 62 to equal Robert Karlson's course record and set the pace at 10-under at the European Tour's flagship event.
Bjorn last represented Europe in the Ryder Cup as a player in 2002 but has been a vice-captain three times since, but is desperate to be packing his clubs to go to Gleneagles in Scotland for the 2014 renewal.
"We all want to play in it. It would be a great achievement for me as it is 12 years since I was last in the team," said Bjorn.
"I have watched a lot from the side lines and that can hurt a little bit at times. I wanted to play in another Ryder Cup and I've got to stay focused and keep playing good golf to there. I am determined to do that.
Lot to do
"I still think I need to do a lot more - there are a lot of guys playing great golf at the moment - there is a long way to go and some very big tournaments on the way."
Bjorn, who is third in the current Ryder Cup standings, says that his return to form recently came out of his determination not to let his career fade away.
"Hard work. Determination to not let a golf career fade away," he added. "I've just been determined to get myself to where I can play with the best in the world and I'll keep continuing to do that as long as my body allows me to.
"I enjoy being out here, which I probably didn't do for a couple of years.
"It's very easy when you get past 40 to stop enjoying this after a long career. I have travelled with my golf clubs since I was 14 years old and sometimes you forget why you love the game and it becomes hard work."
Weather delays
Bjorn stole a march on most of the field as he completed his round when weather meant that so many had to start later and not complete their 18 holes.
"I was signing my scorecard when the siren went and Stephen Gallacher looked at me and says, 'You're not having a very bad day, are you'?" Bjorn said. "We could kind of feel there was something going on in the weather, so it was nice to get in.
"You shoot great rounds in your career but to shoot 62 on this course, you can't ask for more.
"I don't really know where to start. Last week was awful and I was starting to feel a little frustrated with things. Practice this week, I was not good either.
"To step out on this course of all courses and play like I did today was surprising. Although I lived here for nine years it's not a place where I think it's going to be a great week, but I have to stick my head down now and focus on the rest of the week."
Live European Tour Golf, BMW PGA Champs 10am SS4