Tiger 'in control'
Tiger Woods made his best start to a US Open for a decade, but Phil Mickelson and Bubba Watson are both struggling just to make the weekend.
Last Updated: 15/06/12 9:22am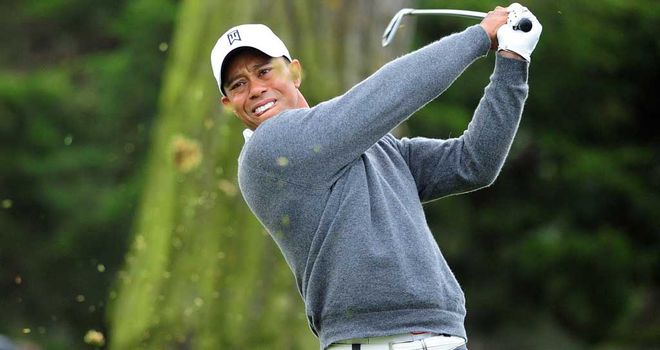 Tiger Woods felt in control of both his game and his temperament after he made his best start to a US Open for a decade at the Olympic Club in San Francisco.
Feeding off the confidence from his win at The Memorial two weeks ago, Woods opened with a solid one-under 69 to lie three behind early first-round pacesetter Michael Thompson.
"I played well - I felt like I had control of my game all day and stuck to my game plan," said Woods, who mixed thee birdies with two bogeys in hard and fast conditions.
"We knew it was going to be quick, but we didn't think it was going to happen overnight.
"I was really, really surprised how much it changed - it was just like they used sub-air on the whole place and you had to make adjustments."
"I was very pleased with every facet of my game and I stayed very patient."
The highlight of his round was a curling 30-foot putt for birdie at the fifth - his 15th - although he gave the shot back at the next.
"It was a fluke - that putt was off the green," he added. "I'd left myself a tough putt there."
Tough day
But Phil Mickelson conceded he faced a tough task just to make the halfway cut after he laboured to a six-over 76.
The left-hander's opening tee shot at the ninth hole disappeared into the trees and was never found, triggering a run of three straight bogeys.
The five-time runner-up got a shot back at the 13th, but that proved his lone high note of the day as four further bogeys left him 10 shots off the lead.
Mickelson said: "I didn't play very well obviously. It was a tough day playing the way I did and three-putting the fourth really hurt.
"I've got a tough challenge just to get to the weekend. I will see if I can shoot under par - maybe that will get me there."
As for losing his opening shot, he said: "It must have stayed up in a tree because nobody saw it."
Mickelson was impressed by the form of long-time rival Woods, adding: "Tiger struck it really well. He had real solid control of his flight and trajectory," Mickelson said.
The third member of the "US Stars" three-ball was Masters champion Bubba Watson, who carded seven bogeys and a double-bogey in a horrific eight-over 78.
"The course beat me up today. It's a lot better than I am - it beat me by eight," he said. "It's disappointing and it doesn't matter what tournament it is."