Zhang unfazed by horror start
Andy Zhang became the youngest player to tee it up in a US Open and did well to break 80 at the fearsome Lake Course.
Last Updated: 15/06/12 9:26am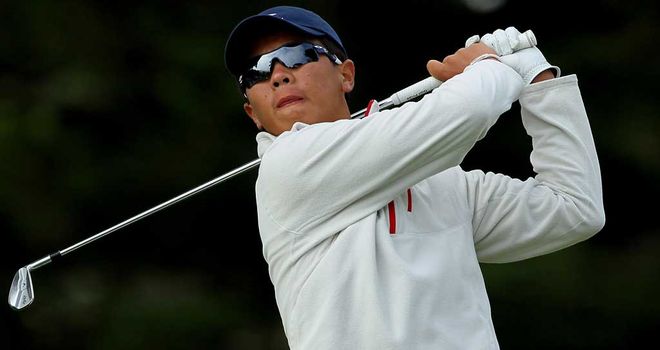 Andy Zhang endured a baptism of fire as he became the youngest player in US Open history on the first day at the Olympic Club.
The 14-year-old Chinese schoolboy started with a triple-bogey seven and stood at eight over after five holes before launching a commendable recovery.
Zhang, promoted to the main field when Paul Casey pulled out on Monday, played the next 10 in level par, and he hit back from a double-bogey at 17 with a birdie at the last to break 80.
"It was really tough, so I'm actually okay with what I shot," he said afterwards. "I shot eight over the first five, then made a par and I knew how to play golf a little bit after that.
"On the first tee I was like 'please don't hit a 100-yard slice and was shaking really hard, but I hit a great shot."
But he pulled his second from the rough and was unable to find his ball in the dense grass to the left of the green.
"I think I kept myself pretty calm and I'm really proud of myself actually," he added. "Well I shouldn't say proud, but I'm really happy to be here and honoured."
Rollercoaster
Marc Warren reflected on his "rollercoaster" first ever round on a major after returning a three-over 73.
The Scot got off to a flying start with a birdie at his first hole, the ninth, and he put together nine straight pars over the inward nine before falling victim to the feared first six holes at the Olympic Club.
Warren bogeyed the first, second and fifth and dropped another shot at his closing hole, but he insisted the Lake Course was a "fair test".
He said: "It was everything I expected and more. It was a rollercoaster ride. I hit some good shots which brought me rewards and bad shots which got punished.
"There aren't really any European Tour events which can prepare you for how tough this is - hence why they call it the toughest test in golf.
"It's a fair test, though. You have to shape your tee shots accordingly, and you can't afford to get too aggressive with your iron shots - even from the fairway - or with your putts.
"So it's a steep learning curve, but I'm loving every minute of it. The aim first and foremost is to make the cut."
Fellow debutant Matthew Baldwin dropped four shots over his final eight holes to card a 74, and he added: "It was amazing.
"Never in my life have I seen so many people on a golf course - although it may have had something to do with Tiger playing two groups behind.
"I made a few mistakes out there, went for a pin I shouldn't have and ended up making a double bogey. But you can't put a price on that sort of experience and I enjoyed every minute of it."