Tiger eyes back-to-back wins
Tiger Woods is hoping for the perfect Open warm-up by taking victory in this week's Greenbrier Classic.
Last Updated: 04/07/12 3:30pm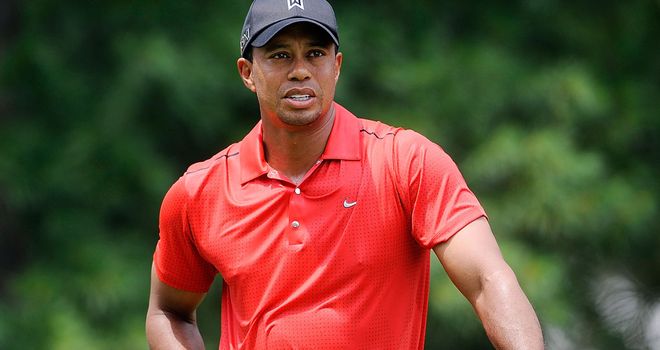 Tiger Woods is hoping for the perfect Open warm-up by taking victory in this week's Greenbrier Classic.
Woods arrives for his final tournament before The Open in a fortnight on the back of his third win of the season - and fourth in seven months.
The latest came in the AT&T National and took him to 74 Tour victories. Jack Nicklaus has now been left behind and only Sam Snead lies ahead with 82.
The last of Snead's victories came at The Greenbrier in 1965 when he was nearly 53 and 36-year-old Woods describes his record as "absolutely phenomenal.
"He didn't exactly have easy guys to play against - Hogan and Nelson. Those guys aren't chops," he said.
"His swing is one of the classic swings that we all try and replicate. We all looked at it, we all analysed it and we all tried to do it.
"He was blessed just like Hogan with amazing flexibility that a lot of guys just can't do. I mean, he was kicking door archways in his 50s and 60s."
This will be Woods's first event at The Greenbrier and he said: "I'm excited. I've heard nothing but fantastic things."
He is excited too after the progress he has made, although he is still searching for his old consistency.
After winning at Bay Hill he was 40th in The Masters, after winning the Memorial he was 21st in the US Open - and with the majors meaning more to him than anything they were hugely disappointing results.
We are all human
"Some days it's better than others - we are all human. I try everything I possibly can and give everything I possibly can," he said.
"Welcome to golf. It's a game that tests our patience. I've been out here a long time and I understand what it's like to have to grind and fight.
"If you have a positive tournament you try and ride that. If you have a negative tournament that didn't exist."
Woods plays the first two rounds with new US Open champion Webb Simpson and Steve Stricker, while Phil Mickelson is with former winners Stuart Appleby and Scott Stallings.
The field also includes 62-year-old Tom Watson before he heads across the Atlantic for both The Open and the Senior Open at Turnberry - the course where he won in 1977 and came so close three years ago.