Canadian stat pack
A preview and key stats for this week's RBC Canadian Open at Hamilton Golf & CC in Ontario.
Last Updated: 24/07/12 8:10am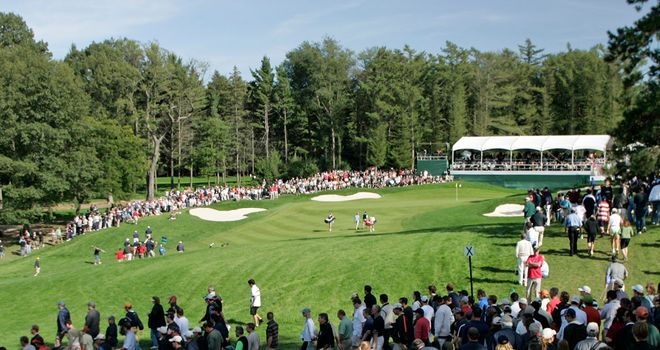 The RBC Canadian Open is back at Hamilton for the second time in the last nine years.
One of Canada's oldest country clubs - it dates back to 1894 - the Ontario course last staged this prestigious tournament six years ago.
The current layout was designed in 1914 by Englishman Harry Colt, who also laid out the West Course at Wentworth, while Hamilton underwent an upgrade 22 years ago.
Set in 300 acres of gently rolling woodland, Hamilton first hosted its national Open in 1919 - and then again in 1930 - before waiting another 73 years to stage the event for a third time.
A decent field tees up, with a number of pros jetting back from Royal Lytham to compete in an event first held in 1904.
So who's playing in Canada?
Bud Cauley: The highly-rated 22-year-old has had a trio of top-10 finishes this season, the latest being a tie-for-fourth at Annandale on Sunday.
Brian Davis: Despite banking $10m on the PGA Tour, he remains one of the better pros yet to record a victory. So far, the 38-year-old Orlando-based Englishman has registered six top-three finishes and has a current world ranking of 93.
Jim Furyk: A tidy but largely flat performance at The Open last week - when he tied for 34th - the 42-year-old American is a two-time winner in Canada. This includes a victory at Hamilton six years ago.
Matt Kuchar: The world No 9 continues to turn in top-class performances and, at Lytham last week, posted his seventh top-10 finish in his last 12 starts.
Kevin Na: Has experienced a solid yet frustrating 2012 season. The Korean-born American is 33rd in the FedEx Cup standings despite no 'podium' finish.
Charlie Wi: A five-time runner-up on the PGA Tour and now inside the world's top 100. A trio of top-four finishes this season, including a tie for third earlier this month at The Greenbrier.
SELECTED PLAYERS with GOOD to REASONABLE recent FORM in CANADIAN OPEN
Last Five Years
Player: '07 / '08 / '09 / '10 / '11
Briny Baird: 27 / 11 / 16 / 30 / 40
Brian Davis: 27 / 14 / Wd / Wd / -
Bob Estes: 50 / 14 / 8 / 4 / MC
Jim Furyk: Won / 14 / - / - / 34
Retief Goosen: - / 30 / 2 / 59 / -
Tim Herron: - / - / 16 / 30 / MC
Charley Hoffman: - / 28 / - / 4 / -
Hunter Mahan: 5 / - / - / 17 / 34
Steve Marino: 15 / 3 / Wd / - / -
Kevin Na: - / 8 / 53 / 13 / 50
Sean O'Hair: 50 / 3 / MC / MC / Won
Ryan Palmer: 3 / 22 / MC / 24 / -
Chez Reavie: - / Won / MC / - / 13
Brandt Snedeker: 7 / - / 5 / MC / -
Bo Van Pelt: 15 / MC / MC / - / 6
Camilo Villegas: 10 / 53 / 24 / 65 / MC
Mike Weir: 34 / 5 / 24 / MC / Wd
Charlie Wi: 22 / 14 / MC / 4 / 22

Key: '07 (Angus Glen, North); '08 (Glen Abbey); '09 (Glen Abbey); '10 (St George's); '11 (Shaughnessy)
SELECTED PLAYERS with POOR to MEDIOCRE FORM in CANADIAN OPEN
Last Five Years
(No Top-30 Finishes in three or more starts since 2007)
Player: '07 / '08 / '09 / '10 / '11
Arjun Atwal: - / - / MC / MC* / MC
Daniel Chopra: MC / - / 40 / 69 / -
Marco Dawson: MC / MC / - / 54 / -
Graham DeLaet: MC / - / 46 / MC / -
Harrison Frazar: MC / MC / 36 / - / MC
Brad Fritsch: MC / MC / - / - / 71
Robert Garrigus: 34 / 44 / Wd / Wd / -
Brian Gay: MC / Wd / - / - / 59
David Hearn: 58 / 58 / - / MC / 34
Matt Hill: - / - / MC / MC / MC
Matt Jones: - / MC / MC / 37 / MC
Troy Matteson: 66 / MC / MC / - / -
Jeff Overton: MC / MC / MC / - / -
Andrew Parr: MC / MC / MC / - / -
Kevin Stadler: MC / MC / 55 / MC / 40
Chris Stroud: MC / Wd / - / 48 / 40
Roland Thatcher: - / - / MC / MC / MC
NB: MC* - Missed additional 54-hole cut
TOP-10 Finishers at Shaughnessy in 2011 (Not already listed above)
Kris Blanks: (2nd)
Adam Hadwin: (T-4th)
Scott Piercy: (T-6th)
John Daly: (T-9th)
Spencer Levin: (T-9th)
Charl Schwartzel: (T-9th)
TOP-10 Finishers from HAMILTON-staged Canadian Opens of 2003 & 2006
Player: '03 / '06
Jonathan Byrd: - / 5
Jim Furyk: - / Won
Trevor Immelman: - / 5
Sean O'Hair: - / 3
Tom Pernice: 3 / 14
Rory Sabbatini: - / 5
Vijay Singh: 6 / 35
Camilo Villegas: - / 5
Mike Weir: 10 / MC
LOWEST ROUNDS at HAMILTON
63: Justin Rose (2006)
63: Jim Furyk (2006)
63: Brett Quigley (2006)
63: Kevin Sutherland (2006)
Note: The lowest round in Canadian Open history is 60 by Carl Pettersson at St George's in 2010
Hamilton: Par 70; 6,983 yards
Winning Totals (Last Three Canadian Opens):
2011 - 276 (Sean O'Hair at Shaughnessy)
2010 - 266 (Carl Pettersson at St George's)
2009 - 270 (Nathan Green at Glen Abbey)