Quartet excited by selection
Steve Stricker, Jim Furyk, Brandt Snedeker and Dustin Johnson have expressed their delight at being handed wildcards.
Last Updated: 04/09/12 5:37pm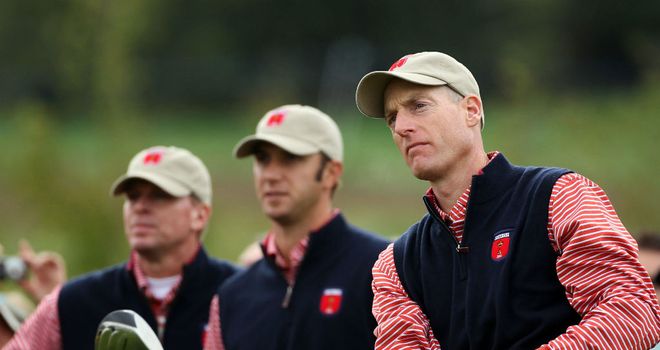 Steve Stricker, Jim Furyk, Brandt Snedeker and Dustin Johnson have expressed their delight at being handed wildcard picks by US Ryder Cup captain Davis Love III.
The quartet completed Love's 12-man line-up to take on Europe at Medinah Country Club in Illinois at the end of the month.
Stricker, who has two previous caps, immediately set his stall out to play a major role in America regaining the trophy which Europe have won four of the last five times, and six of the last eight - including a 14½-13½ success in Wales last time out.
"We all know how much fun it is and how much pride we take in being part of this team, and to play for Davis is going to be a thrill," he said.
"I'm looking forward to it, it's a great time and it's a tremendous lot of fun trying to get that one common goal and win that cup back. It's what we're all appearing for and I'm looking forward to it."
Furyk, who will win his eighth cap in Chicago, added: "I've had the opportunity to play in quite a few Ryder Cups but Davis has been a good friend, someone we all respect and look up to.
"It'll be fun playing for one of the guys that I've played a lot of years on the PGA Tour with. I'm looking forward to it, I couldn't be more excited."
Rookie Snedeker will join team-mates Jason Dufner, Webb Simpson and Keegan Bradley in making his debut in the event.
Snedeker out to impress
The 31-year-old promised to try and make Love "look like a genius" after his selection.
"I'm so excited to be on this team," said the man who led the Open after two rounds at Royal Lytham & St Annes.
"It's going to be such great experience for me to be in my first Ryder Cup, I'm looking forward to getting to Medinah and trying to make Davis look like he's a genius and try to play as good as I possibly can."
Dustin Johnson, who will make his second appearance having featured in the dramatic loss at Celtic Manor last time out, said: "Obviously I'm very excited to be on the team, I'm really looking forward to it.
"I've played well the last few weeks and made my case pretty solid and I'm really excited about it.
"I played the Ryder Cup away and I'm looking forward to playing one on home soil."
Love concluded: "A lot of guys played a lot of really good golf, it was tough to leave anybody off. We could have gone very deep this year down the points list.
"There's four great players that we have picked that all bring a lot to the team, but it was definitely a tough call.
"We're looking to match guys up, we're looking for pairings, we're looking to plug some holes, we're looking to add some experience, add some putters... these guys all fill those roles perfectly.
"I can't tell you how excited I'm going to be for the next 22 days to talk to these guys, work with these guys and get ready to play some golf."