Snedeker storms into a share
Justin Rose will go into the final round of the Tour Championship at East Lake tied for the lead alongside American Brandt Snedeker.
Last Updated: 23/09/12 8:48am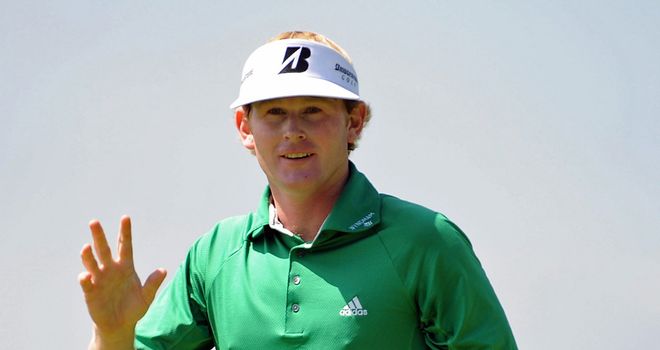 Justin Rose will go into the final round of the Tour Championship at East Lake tied for the lead alongside American Brandt Snedeker.
The Englishman shot a third round 68 to move into a share alongside Snedeker, who had a joint best of the week 64.
Halfway leader Jim Furyk looked set to make it a three-way tie at the top but the former FedEx Cup champion had a seven at the par four 17th after finding water off the tee and dropped back into a share of fourth on five under.
American Ryan Moore is in third place, two shots back after a 65, with Furyk, world No.1 Rory McIlroy and Masters champion Bubba Watson a further stroke adrift.
Solid
Tiger Woods is among four American players sharing seventh in the final event of the FedEx Cup play-off series, which pays a $10 million bonus to the points leader after Sunday's final round.
Woods, McIlroy and Snedeker can each win the jackpot by winning the tournament. Rose would need McIlroy to slide down to 17th in the 30-man field to have a hope of moving past the Northern Irishman into the play-off points lead.
After his two-under 68 which included a sand-save at the par three 18th, McIlroy told Sky Sports: "I wanted to make that putt at the last. I didn't want to give a shot away there right at the end. It was very nice to get that ball up and down from the bunker.
"I felt like I played pretty solidly. It's just a golf course where you've got to stay patient. If you hit it in the rough you're not going to make your par.
"I don't think anyone is really going that low. I may need a low one tomorrow, hopefully I've saved it for the last day. Even if I haven't played my best I'm still in with a chance of winning the tournament, and that gives you all the confidence in the world."
McIlroy's 68 was his 11th successive sub-70 score.
Snedeker had gone into the tournament aiming to be in contention to win on the final day.
Vital
He told the PGA Tour website: "My first goal for this week is achieved, and that is to have a chance going into Sunday.
"I think something like 90 per cent of the PGA Tour winners come from the last two groups, and that's where I want to be - in those last two groups.
"So I now get I get a chance to do that tomorrow, and it should be a lot of fun.'' Rose praised Snedeker for recovering from a slow start to the tournament.
"I know he got off to a rough start on Thursday, and to climb back and tie for the lead being in that sort of vital top five is a wonderful performance," the Englishman said.
"So he's going to be the one out of the two of us thinking about it overnight.'' Rose plans to just focus on the Tour Championship win rather than worry about the FedEx Cup.
He said: "The whole year we've been grinding for the FedEx Cup, and it's still possible.
"It's not an easy golf course. Things can happen out there. But for me, it's about one tournament.
"I wish I would be in the situation that Brandt's in. I would trade him, but obviously, that's the position I'm in."