Stricker admits Poulter rivalry
Steve Stricker claims Ian Poulter is the one man above all others on the European team that he does not want to lose to.
Last Updated: 24/09/12 3:56pm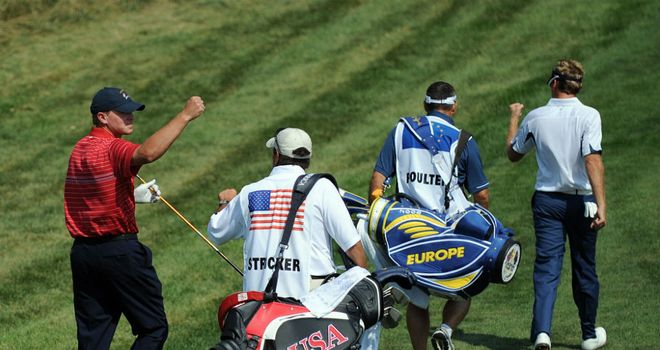 Steve Stricker has revealed that Ian Poulter is the one man above all others on the European team that he does not want to lose to at the Ryder Cup this week.
Stricker will be making his third Ryder Cup appearance for America at Medinah and has plenty of experience of competing against Poulter in the biennial contest.
At Valhalla in 2008 the Englishman twice got the better of him in fourball and then singles action, although Stricker had the last laugh as America claimed overall victory.
The duo also went head-to-head in fourball action at Celtic Manor two years ago; on that occasion it was Stricker who tasted victory alongside Tiger Woods only for Europe to ultimately clinch a memorable triumph.
The battles with Poulter have certainly left their mark on Stricker with the American citing the Englishman's exuberant celebrations and ultra-competitive nature as incentive enough not to lose any future duels they may have.
"I like to compete and I like to win - doesn't matter who it is," Stricker explained. "But when it comes down to playing Ian Poulter in the Ryder Cup, I don't want to lose to him.
"When he yells and screams, they [Poulter's eyes] bug out - that's why you want to beat him.
Big-time competitor
"He's a big-time competitor. You can tell he's working hard to beat you. And when you come across a guy who really wants to beat you, you really want to beat him."
For his part, Poulter acknowledged that he thrives on the challenge of match-play golf and the unique atmosphere that the Ryder Cup creates.
His antics may have made him something of a target for the American team, but he insists that fact holds no fear for him.
"The Americans want to kick my a**," Poulter told the Telegraph.
"People ask me why the Ryder Cup seems to suit me so much. If you look at my match play record it's pretty good. I have won both versions of the World Matchplay. One of my strengths is my putting and that is big in match play.
"Some people have told me it's because I'm a frustrated footballer and although I don't feel like one, maybe there is something in it as I was told when I was young that I wasn't good enough and had to go looking for something else.
"I was always passionate about playing football - in football you show more emotion in 10 minutes than you do in a whole week of a normal golf tournament. So yeah, maybe that does have something to do with my Ryder Cup fascination. It's the one place a golfer can totally interact with the fans."