Dustin Johnson's late birdie adds another dent to European Ryder Cup hopes
Paul Lawrie and Nicolas Colsaerts suffered a one-hole fourballs defeat to Matt Kuchar and Dustin Johnson on day two.
Last Updated: 30/09/12 8:25am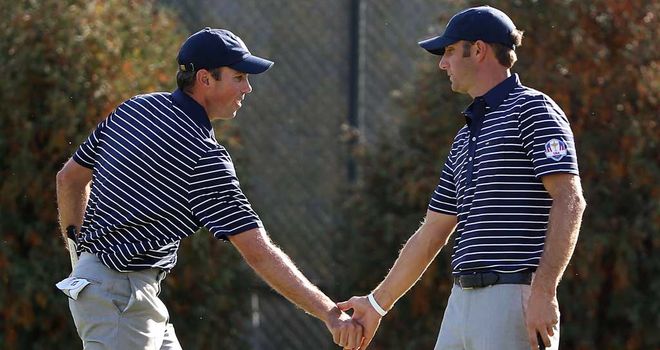 Johnson's brilliant birdie at the penultimate hole proved decisive and left the European pair to rue a series of missed opportunities on the greens.
Kuchar was the first of the quartet to find his range on the greens, draining a 15-footer to win the second before curling in a 20-foot birdie putt for another win at the fourth.
But the home pair both got into difficulty at six, where Lawrie's par pulled a hole back, and Colsaerts played an exquisite bunker shot to within a foot to win the seventh and level the match.
Kuchar got another birdie putt to sneak in the side at the 10th, and neither European could match despite being closer in three.
Lawrie ruined a magnificent approach from sand to the 11th with a blocked birdie putt, but the veteran Scot did find the cup with a seven-footer for a half at 13.
Colsaerts almost levelled the contest at the long 14th after he unleashed a mammoth 403-yard drive and knocked his second to 25 feet, but his eagle putt horseshoed around the hole and stayed north.
Lawrie produced a brilliant up and down from a greenside bunker at 15 to earn a half, and his cast-iron par at the next restored parity after Kuchar endured tree-trouble and Johnson chunked a bunker escape.
But Johnson atoned at the 17th as he coaxed in a superb 25-foot downhill putt for a two to prompt one of the biggest roars of the day from the packed stands.
Colsaerts' approach to the last pitched just over the pin and grazed the cup as it spun back, but he pushed his birdie attempt from 12 feet and conceded defeat.
Johnson said: "It was great. My man, my partner here, Matt, he kept us in it all day. I pitched in a few holes here or there, but not too much. I was definitely riding on his back for most of the day.
"And then I hit some good shots on the back nine, and then obviously that putt on 17 was one of the best putts I've ever made.
"It's probably the loudest roar I've ever heard, especially in this situation."
A frustrated Lawrie added: "It's all about putting. Ryder Cup always has been. All the players are top players, world-class players.
"We can all play, it's just a matter of who holes the putts and today the American boys holed the putts at the right time."