McGladrey fancies
We look at the leading contenders and best outsiders at this week's McGladrey Classic.
By Dave Tindall
Last Updated: 17/10/12 10:49pm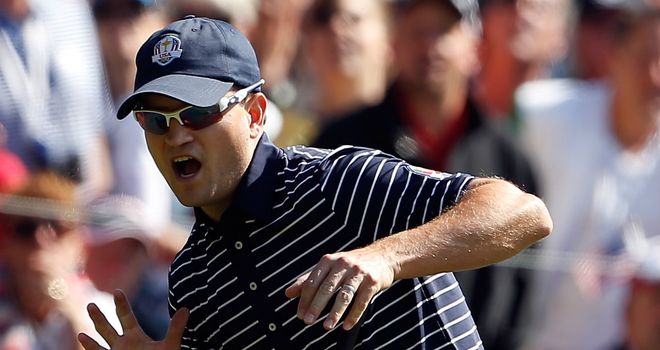 Two of America's defeated Ryder Cup team - Zach Johnson and Jim Furyk - head the betting for this week's McGladrey Classic in Sea Island, Georgia where US skipper and local resident Davis Love co-hosts the event.
The tournament is the penultimate leg of the Fall Series and is being played for the third year on the 7,005-yard par 70 Seaside Course.
The leading contenders (Sky Bet odds):
Zach Johnson (12/1): The local Sea Island resident has won twice this season (Colonial in May and John Deere Classic in July) and earnings of $4.4m put him sixth on the Money List. This is his first start since the Ryder Cup where, despite the hard-hitting loss as a team, he finished as joint top US points scorer with three wins out of four.
Latest form: 15-12-47-38
Course form: MC-12
2012 stats: DD: 167th, DA: 14th, GIR: 100th, Putting: 12th
PGA Tour wins/starts: 9/237
World ranking: 16th
Jim Furyk (14/1): It's been a tough year for Furyk with gut-wrenching losses in the US Open and WGC-Bridgestone Invitational and, most of all, a hugely significant defeat to Sergio Garcia in the Sunday singles matches which cost the Americans the Ryder Cup. This should be a good event for him though. He has an excellent record on the Eastern Seaboard States and an 11th here on debut in 2011 confirmed the belief that the course would suit him.
Latest form: 7-9-13-MC
Course form: 11
2012 stats: DD: 170th, DA: 4th, GIR: 30th, Putting: 24th
PGA Tour wins/starts: 16/481
World ranking: 23rd
Jason Day (14/1): After his brilliant 2011 when he finished runner-up in the first two majors, Day has suffered a stop-start 2012 with a summer break following the birth of his first child. Since his return he's struggled for rhythm but did hit his straps in Vegas last time when carding 64-65 on the weekend to finish fourth (his only top five in 16 US Tour starts this term). Putter looks hot.
Latest form: 4-51-24-MC
Course form: Debut
2012 stats: DD: 7th, DA: 184th, GIR: 172nd, Putting: 10th
PGA Tour wins/starts: 1/114
World ranking: 27th
Jonas Blixt (16/1): In just his 19th PGA Tour start, the Swede became a winner as he landed last week's Frys.com Open in California. That added to a third place the week before in Vegas so he's the play-off's hottest player. The key? His putter. Blixt has been superb on the greens all season and another excellent display last week saw him replace Brandt Snedeker as the Tour's No.1 ranked putter.
Latest form: 1-3-20-46
Course form: Debut
2012 stats: DD: 125th, DA: 125th, GIR: 132nd, Putting: 1st
PGA Tour wins/starts: 1/19
World ranking: 75th
Vijay Singh (22/1): The former World No.1 has found his mojo again over the last few months, with a ninth place in The Open at Lytham sparking a run of four top 10s in his last eight starts. A tied fourth in California last week made it two in the last three. Amazingly, given his perennial problems on the greens and overall 2012 season stats, it's Singh's putter which is his best friend at the moment and he topped the putting average stats at Cordevalle last Sunday.
Latest form: 4-36-8-26
Course form: MC
2012 stats: DD: 45th, DA: 92nd, GIR: 69th, Putting: 170th
PGA Tour wins/starts: 34/500
World ranking: 67th
Jeff Overton (22/1): The 2010 Ryder Cupper remains winless on the US Tour after 188 starts so has been a frustrating character for punters. Earns his place amongst the fancied runners this week due to some impressive recent form (his last seven rounds have been in the 60s) and a sixth place in this event on debut in 2011.
Latest form: 8-13-51-7
Course form: 6
2012 stats: DD: 65th, DA: 80th, GIR: 65th, Putting: 53rd
PGA Tour wins/starts: 0/188
World ranking: 83rd
Henrik Stenson (25/1): Stenson has had plenty to inspire him in recent weeks with Swedish compatriot Jonas Blixt winning the Frys.com Open and his former Ryder Cup teammates pulling off a thrilling victory at Medinah. His US form has been poor for several seasons but back in Europe he's made the top 10 in five of his last seven starts so shouldn't be dismissed.
Latest form: 6-MC-5-MC
Course form: 32-MC
2012 stats: DD: 113th, DA: 53rd, GIR: 125th, Putting: 95th
PGA Tour wins/starts: 2/92
World ranking: 119th
Michael Thompson (28/1): The former amateur star made a big impression at this year's US Open in San Francisco where he led after day one and eventually finished tied second. His best performance since was a tied 13th in Las Vegas last time out while a top three finish here last year means he's been a popular pick to win this week.
Latest form: 13-MC-63-MC
Course form: 3
2012 stats: DD: 155th, DA: 130th, GIR: 149th, Putting: 25th
PGA Tour wins/starts: 0/55
World ranking: 78th
Outsiders:
Charles Howell (40/1): The American shares the Seaside Course record of 62 which helped him finish in tied sixth place in 2010. Shot a pair of 66s on the way to a tied 11th at last week's Frys.com Open.
Ken Duke (80/1): Six top 10s this season and 10th after 54 holes in Vegas last time out before a Sunday fade. Shot all four rounds in the 60s to place T15 here last year.
Brian Davis (125/1): Five-time runner-up on the PGA Tour is one to note on short tracks and showed a return to form in California last week, finishing 69-69-66. Has three top fours this season.
Conclusion:
Zach Johnson is due a good performance on his 'home' track and looks the most reliable of the frontrunners. If Vijay Singh's putter stays hot he could be a strong presence on the leaderboard while Brian Davis certainly makes appeal at a three-figure price in a field of modest quality.