Davis Love III admits he still thinks about Ryder Cup ahead of McGladrey Classic
Davis Love III admits he still cannot get over his Ryder Cup heartbreak as he prepares to host the McGladrey Classic.
Last Updated: 17/10/12 10:32pm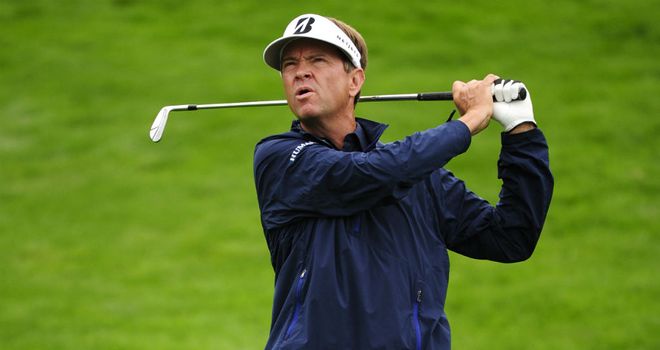 Love, who is the chairman of the Georgia-based tournament as well as its host, has had over two weeks to digest America's stunning defeat at Medinah, where they squandered a 10-6 lead on the final day.
And the 48-year-old admits that he still thinks about what else he could have done as a captain to prevent the capitulation in the singles matches.
"I'm still not sleeping well. I still think about things. We didn't win. So I accept that," Love said.
He added: "We've been playing that game like everybody else. You sit there and go, 'if I had just put the pin left on 17 on Sunday rather than right, would that have made a difference?'
"And the order of play and the pairings and all that, you can go over and over and over. So you keep going back and forth on all the arguments.
"What I've come down to is we really may have dropped the ball on pin placements on the last few holes. We wanted pins on the left and in the middle of the green because a lot of our guys were drawing it in there.
"If I could do something over again, it would be more getting guys thinking about how to play singles and maybe the pins needed to be easier or harder."
Love can look forward to a little less pressure at the Seaside Course this week, where Swedish rookie Jonas Blixt will be among the entrants after winning his first PGA title at the Frys.com Open last time out.
"I have pretty good confidence in my game right now and the things I've been doing after the win are taking a lot of energy so I will see what my body does and how I respond to it," Blixt said.
"I'd like to kind of sneak under the radar a little bit. I enjoy being by myself and practicing a little bit and stuff like that. I'm not really used to having a camera in my face as much as I've been having the last few days."