Tiger Woods chases victory in this week's CIMB Classic in Malaysia
Thirteen years after a victorious maiden visit, Tiger Woods makes a return to Malaysia for the CIMB Classic.
Last Updated: 24/10/12 3:37pm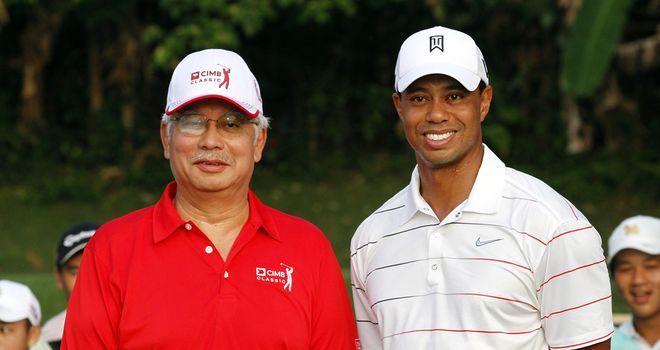 The 14-time major champion is the tournament's top draw at the Mines Resort and Golf Club, a venue where he won the World Cup of Golf in 1999.
Woods admitted that it was good to be in Kuala Lumpur after so many years.
"Yeah, it's great to be back. It's been a long time," he said.
"The golf course looks the same as it did 13 years ago, but some great memories from playing here. To be able to hold off the Spaniards and to be able win the World Cup, my first one, was a lot of fun and having to do it with Mark (O'Meara) was even better.
"So it's good to be back. It's not cold outside, so it will be a nice test this week. The golf course is in good shape, even though it's got a lot of rain on it. It's very soft. A few mud balls out there. But overall, it's pretty good."
Woods has not played in a regular Tour event in Asia since late 2010 but feels connected with the growing and expansive region as his mother is Thai. He has won titles in Thailand and Japan previously and adding the CIMB Classic title, an event sanctioned by the Asian Tour and PGA Tour, will be his top priority this week.
"People probably sometimes forget that my mom was born here in Asia. So to me, coming home to Asia, it does feel like home because I'm very used to the culture. It's how I was raised at home, and just I've enjoyed my time throughout the years that I've spent here in Asia," he explained.
Heat and humidity
World number nine Jason Dufner, a runner-up in Perth last week, reckons the heat and humidity could pose a big challenge to the 30 PGA Tour players in the limited 48-man field.
"Obviously, the heat and humidity can get to us a little bit. We're not quite used to the temperatures and the humidity that we get here in Malaysia, so that could be a bit of a factor as far as endurance goes and just how you feel throughout the week," said Dufner, who finished tied 10th in the event last year.
He rates the Mines Resort highly, especially with conditions being its best in three editions.
"You've got a good mix of holes. So it tests all the clubs in your bag. You have to hit different tee shots, different iron shots, short clubs, long clubs," he said.
Inaugural champion Ben Crane has enjoyed reconnecting with his Malaysian fans, whom he credited for helping him win in 2010.
"It's great to be back. This is a very special place to my family, and I've met a lot of friends here. It's just really cool to be back. Lot of fond memories on this golf course, obviously. It's something we look forward to every year," said Crane.
Back from a back injury, he hopes to ride on his feel good factor and challenge for a second title at the CIMB Classic.
"I've been sidelined for the last couple months with a back injury. I had an injury to one of my discs, so I haven't played a lot. But did I play last week, and I feel very good about my game," he said.
"I had a great Pro Am today. Actually made two eagles, which was kind of fun."