Phil Mickelson is excited by the future after overcoming slump in 2012
Phil Mickelson says he played some of the worst golf of his career in 2012, but feels it proved a blessing in disguise.
Last Updated: 07/11/12 5:42pm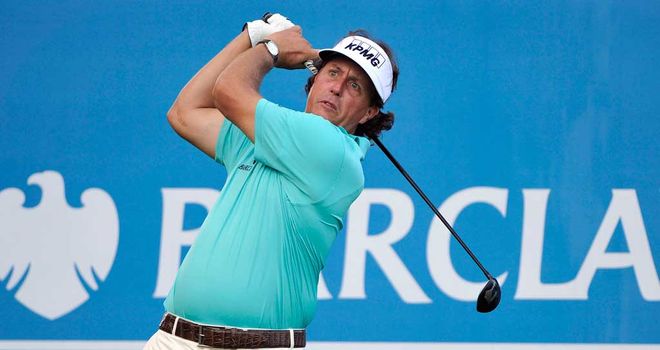 The four-time major winner started 2012 in fine style with victory at the Pebble Beach Pro-Am back in February, seemingly setting him up for a strong campaign.
But his form fell away over the summer and a poor showing at the US Open was followed by consecutive missed cuts at the Greenbrier Classic and Open Championship.
The 42-year-old acknowledged his loss of form forced him to go back to the drawing board, but feels he has now reaped the benefits of working on every aspect of his game.
The past couple of months saw him excel in the FedEx Cup play-offs and at the Ryder Cup, while he came within a whisker of his second win of the season at the WGC-HSBC Champions event last week.
"I've had really tough three or four months when I played some of my worst golf in my career - it's turning out to be one of the best things that has happened for me because it forced me to analyse my game and dissect it and put each part back," Mickelson explained ahead of this week's Singapore Open.
"I had to start with my iron and get that to where I was hitting the ball with the right distance, trajectory and spin rate. And then I had to move on to my chipping, putting, fairway woods and to my driver.
Improving all the time
"I've had to piece my game back and now since the PGA, I've played better golf every single week.
"I've played some of my best golf at The Ryder Cup, I played very well at the HSBC Champions, and I'm excited about next year. That three or four months downtime has forced me to piece my game back to where I think I'm better now that I think it has been in a long time."
Mickelson will compete in Singapore this week for the sixth year in a row and enjoys his annual opportunity to revisit Asia at this time of year.
With the HSBC Champions event having been upgraded to become an official part of the PGA Tour's FedEx Cup schedule from next year, the left-hander is hopeful officials will look to incorporate more Asian events on to the calendar given that the region is such a growth area for the sport.
"I've been playing here (Singapore) for the past six years now and I plan to continue to play and having a presence in some of the top Asian tournaments," he added.
"It's great that tournaments in Asia are part of the FedEx Cup... I'm hopeful that at some point, the US Tour can maybe have three or five events over here."