Jonas Blixt hopes to book spot in 2013 Masters with big show in Children's Miracle Network Classic
Jonas Blixt is bidding to end his best year of golf by bagging a spot in next April's Masters.
Last Updated: 08/11/12 3:00pm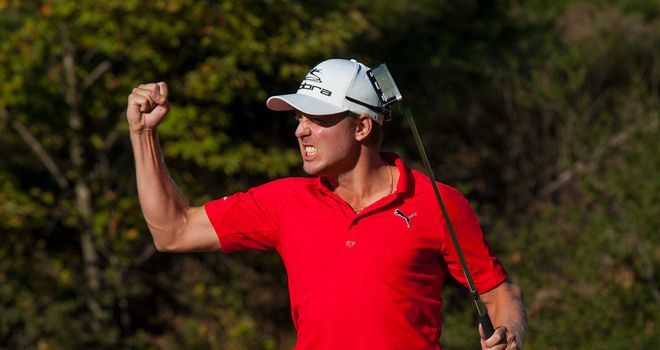 The Swede sits 35th on the PGA Tour Money List going into this week's closing event - the Children's Miracle Network Hospitals Classic at the Disney World Resort in Florida.
And if he can climb five more places he'll be one of the top 30 earners who get an automatic invite to The Masters.
It represents a remarkable shift of emphasis for the 28-year-old, who started his rookie season with the goal of finishing in the top 125 and securing his Tour card.
A win in last month's Frys.com Open in California has put him in position to realise his Augusta dream although he'll probably need a top-three finish this week to make it to 2013's opening major.
"I went there four years ago for the first time (just to watch) and thought it was the coolest golf course and atmosphere I'd ever seen," he said.
"It would be a dream come true."
Although this will be Blixt's first appearance in the event, he should feel at home on Florida soil.
The now world number 72 attended Florida State University and won a host of college titles there.
Christian bid
Surviving for another year remains the objective for many of the field at the last of the circuit's Fall Series - including England's Gary Christian.
A former contestant on "The Weakest Link", the 41-year-old from Carshalton became the oldest rookie on the circuit this season after graduating from the Nationwide Tour.
He has earned £385,000, but such are the riches on offer these days that he stands 127th on the money list - and only the top 125 on Sunday night keep their cards.
Christian trails 125th-placed Billy Mayfair by less than £2,200, which makes every single shot crucial.
The chance to secure his immediate future was there when he began the McGladrey Classic three weeks ago with an opening 67, but he ended up earning "only" £4,755 for joint 72nd place and has not had a top-20 finish since July.
"I've played very solid for a lot of tournaments and unfortunately your brain goes to kind of what you've been doing recently, which has not been terribly good," he said.
"You've just got to get back to telling yourself how good you are, how well you've played. I was telling my mum and dad and brother 'you've got to tell me how good I am'.
"English people are not the most rah-rah people. I think they said 'you're doing all right, we're very proud of you' - that's about as good as you get out of an English person."
Former Ryder Cupper Robert Karlsson needs a much bigger week than Christian to avoid the qualifying school - he is down at 161st place and probably needs a top-three finish.
The tournament is also of huge interest to Belgian Nicolas Colsaerts, one of Europe's heroes in Chicago in September, even though he is not playing.
Colsaerts' earnings in PGA Tour events this season would put him in 122nd place if he was a member and if he stays above the player who finishes 125th then he will be awarded a card for next season.
England's David Lynn, shock runner-up in the USPGA Championship in August, and Swede Peter Hanson have already done enough to earn cards.