Charlie Beljan lines up again at Children's Miracle Network Hospitals Classic
Despite being hospitalised, Charlie Beljan returned for day three of the Children's Miracle Network Hospitals Classic.
Last Updated: 10/11/12 9:20pm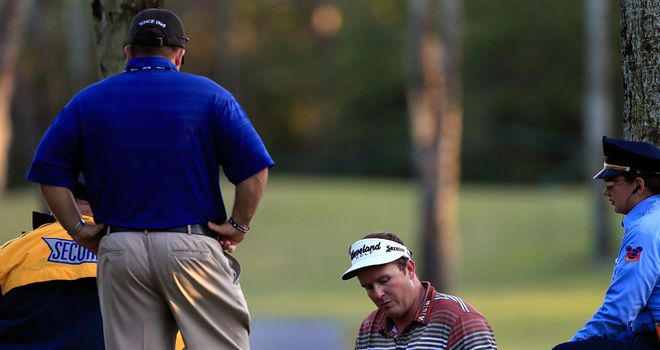 The 28-year-old American shot an eight-under 64 on Friday to claim a three-shot halfway lead but had to be taken away on a stretcher and transported to hospital after suffering breathing problems, an increased heart rate, high blood pressure and numbness in his arms on the back nine.
After being treated and getting only an hour's sleep while in hospital, he returned to the Magnolia Course at Disney on Saturday to continue his bid to retain his Tour card.
"I'm still not feeling that great," Beljan said on the putting green. "But shoot, the position I'm in, it's kind of hard not to show up.
"Yesterday, I honestly feared for me life," said Beljan who went into the year's final event in Florida sat 139th on the US Money List, 14 spots short of the top 125 who earn cards for next season.
"They released me saying that they thought I was good enough... maybe not to go play golf, but at least to leave the hospital," Beljan said.
"I'm making the decision to come out here and play. Who knows if we'll last two holes? Who knows if we'll last 18 holes? We're just going to take it one shot a time, which I did yesterday, and ended up pretty good."
As to the cause of his problems, he speculated: "Maybe an anxiety or panic attack that spun out of control, having to fight it for six hours or so.
"But as far as blood work, the CAT scan, the lungs, the heart, everything was wonderful, which was a huge relief. But still, I'm going to have to go back out there and face the feelings today."