Keegan Bradley heckled by fan at World Challenge for using infamous belly putter
Keegan Bradley was heckled for the first time in his career when a fan called him a cheat for using the belly putter.
Last Updated: 04/12/12 9:45am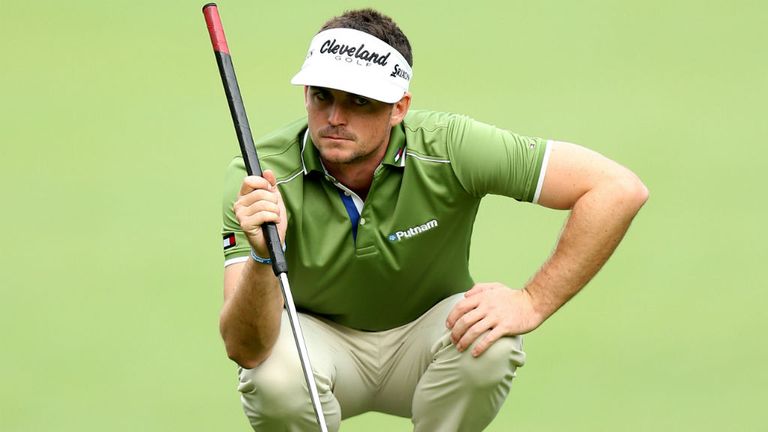 Bradley is one of the players to come under the spotlight for using the anchored belly putter that looks set to be outlawed come 2016.
The 26-year-old used the putter to win the USPGA Championship last year, but the club will not be allowed into professionals' bags - although that will not be enforced for another four years.
Several players have come out in favour of removing the anchored putter from the game, and Bradley has been one of those to have been criticised for using them.
Now, Bradley has received a taste of what could be coming his way after one fan took exception to him still using the putter at the World Challenge at Sherwood Country Club in California.
"I had some guy here call me a cheater on the last hole, which was no fun," Bradley said after moving into contention for the tournament behind leader Graeme McDowell.
"But I look forward to hopefully making everything tomorrow with that belly putter and hopefully it (the criticism) will get a little louder.
"I never have been heckled before. I've never heard anything negative. Today I heard a few things but I also heard way more positives than negatives."
Asked if he had responded to the fan, he answered: "No. You know, that's unfortunate. It's very disrespectful.
"But it's fine with me. I've got to try to look at it as motivation to help me try to win this tournament."
Bradley was the first player to win a major with the belly putter, but Webb Simpson and Ernie Els have both tasted success since with the club.
With the wording of statements from the USGA and the R&A, there is still plenty of confusion and controversy left in the saga for players like Bradley to get caught up in.