2014 Ryder Cup: Tom Watson to be US captain for Gleneagles
Tom Watson has been named as the US Ryder Cup captain for the 2014 match at Gleneagles.
Last Updated: 14/12/12 12:45pm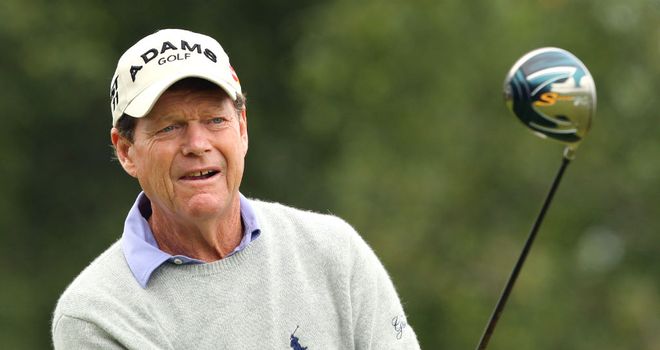 Watson will be 65 when the Americans attempt to wrestle back the trophy in Scotland in two years' time and that will make him their oldest-ever skipper. Sam Snead was 57 when he did the job in 1969.
It will be Watson's second stint as skipper having captained the US to a 15-13 victory at The Belfry in 1993. That remains the Americans' only away success in the last 31 years of the Ryder Cup.
Watson, who won four of his five Open titles in Scotland, also enjoyed a hugely successful Ryder Cup career as a player.
He made a winning debut at Royal Lytham in 1977 and was also part of the triumphant US teams who scored victories in 1981 at Walton Heath and in 1983 at PGA National Golf Club.
His only disappointment came at The Belfry in 1989 when a 14-14 tie meant the trophy stayed in European hands although, even then, Watson showed his grit by winning one of the dead rubbers to ensure the visitors levelled the match after Europe had gone 14-11 up.
Although considered a gamble because of his age, Watson's appointment for a match in Scotland also makes plenty of sense.
The 63-year-old is revered in the 'home of golf' after his Open wins at Carnoustie (1975), Turnberry (1977), Muirfield (1980) and Royal Troon (1982).
The eight-time major winner also thrilled the Scottish crowds when coming within a fraction of becoming the oldest ever major winner in 2009. Aged 59, he missed a putt on the final hole to win and then lost a play-off against Stewart Cink.
Watson instantly made it clear he wants Tiger Woods on his side, even though he had harsh words to say in the wake of Woods' sex scandal in 2009 and the fact that since 1999, the only time the United States have triumphed was the one time Woods was not playing.
Watson has not decided yet how many wild cards he wants, but if Woods fails to qualify automatically he can expect to be the number one choice for a pick.
"He's the best player maybe in history," Watson added. "Our relationship's fine and I want him on my team."
Woods has already said he hopes to win an eighth cap under the man who deplored his club-throwing and swearing and commented: "I feel that he has not carried the same stature as the other great players that have come along like Jack [Nicklaus], Byron Nelson, [Ben] Hogan.
"You can grant that to somebody, a young person, that has not been out there for a while, but I think he needs to clean up his act and show the respect for the game that the people before him have shown."
Woods, who did not win a game at Medinah as America suffered their seventh loss in nine matches, said in a statement: "I'd like to congratulate Tom Watson on his selection as Ryder Cup captain.
"I think he's a really good choice. Tom knows what it takes to win and that's our ultimate goal.
"I hope I have the privilege of joining him on the 2014 United States team."
Darren Clarke could well be the captain Watson is up against in Scotland - it looks to be between last year's Open champion and Paul McGinley - and he said after his first round at the Australian PGA Championship, but before the official announcement: "He is one of the legends of the game and I am sure he would be a fantastic captain, not just to the team but to all aspects of the Ryder Cup.
"The man is a huge name in the world of golf and rightly so."