Dustin Johnson can be a star thanks to Butch Harmon, says Denis Pugh
Denis Pugh praised Butch Harmon for transforming Dustin Johnson into golf's "next superstar".
Last Updated: 09/01/13 10:15am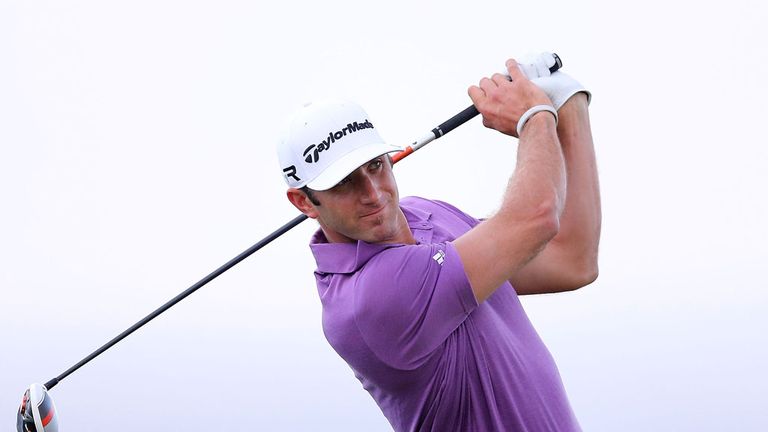 The big-hitting American started 2013 in style with a four-shot victory at the weather-shortened Hyundai Tournament of Champions in Hawaii; it is the seventh victory of his PGA Tour career after turning professional back in 2007.
Johnson is famed for his unorthodox swing and has often spoken about the influence of his coach on his development but Sky Sports pundit Pugh insists Harmon's psychological impact on the player is perhaps more significant than the technical.
"I'm a big fan," Pugh told Sky Sports.
"Dustin Johnson, in my opinion, is the next superstar coming through and there's no doubt he has all the elements that are required. He has that sort of streak of independence that says 'I'll do it my way'.
"Butch is part of the Sky team, so we are praising one of our own, but there's praise indeed due to him because he's done the job.
"With Dustin, it's not so much what he tells him about the swing - or even the wedges - it's about mentoring him through the dangers of playing golf for a living.
"Lots of things can happen and Dustin does lots of things, but now he's learning from them."
Talent
Johnson, 28, has been tipped by many in the Sky Sports team to make an impact at the majors in the next few years.
And pundit Peter Oosterhuis says he's capable of winning the biggest tournaments in golf now that he's curtailed the party lifestyle that influenced his early days.
"Who knows what Dustin is going to do over his career?" he said.
"He's got the talent and he's got the unusual swing. I don't suppose he's ever going to change that, but he's an amazing talent.
"He's having quite a good career, even with the partying going on. Sorry to repeat myself, but he's just an amazing talent with this peculiar position at the top of the backswing.
"He can win any tournament he wants."