Sony betting preview
Dave Tindall's in-depth preview and best bets for the Sony Open at Waialae CC in Honolulu, Hawaii.
By Dave Tindall
Last Updated: 09/01/13 8:19pm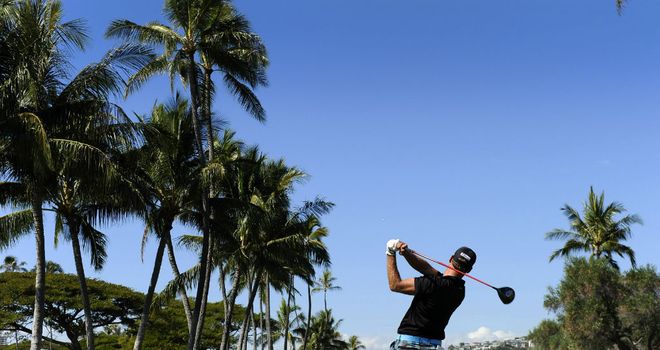 As is tradition the PGA Tour stays in Hawaii this week for its second event of the new campaign.
And after the Tuesday finish in the Hyundai Tournament of Champions, there won't be much preparation time for the 20 players scheduled to make the island hop from Maui to Honolulu.
The most obvious difference between the two is that a full field of 144 contest the Sony Open compared to last week's limited 30-man field at the Hyundai so, in many ways, this is where it all gets real.
Once again, Hawaii time is 10 hours behind the UK so get the coffee maker at the ready or take a nap in the day ahead of Sky's live coverage which starts at midnight for each of the four rounds.
The course
After the vast expanses of the Plantation Course last week, Waialae presents a much more precise challenge. The fairways are narrow and are some of the hardest to hit on tour, the par drops to 70 and the greens are standard sized rather than the huge putting surfaces we saw at the Hyundai. In general, therefore, they suit an experienced player rather than a young bomber.
The weather
The elements looked set to ruin the Hyundai last week as attempts at play were declared null and void for the opening two days, meaning the action didn't get under way until Monday. The good news is that it should be much milder at Waialae Country Club. The forecast shows temperatures in the high 70s, just a 20% chance of rain each day and winds dropping throughout the tournament from 17mph on Thursday to virtually nothing on Sunday.
Last year - Johnson Wagner
After a promising ninth place at the previous week's Hyundai, Wagner carded rounds of 68-66-66-67 to shoot 13-under and claim a two-shot victory from the quartet of Carl Petterson, Sean O'Hair, Harrison Frazar and Charles Howell III. "I'm really excited. I've worked so hard in the off-season with my trainer, my caddie, and I told everyone I was going to win early this year. It feels good to have done it," said Wagner after capturing his third PGA Tour title.
The leading contenders (and Sky Bet odds)
Dustin Johnson (11/1): Ernie Els won both legs of the Hawaii Swing in 2003 so DJ will be aiming to emulate the South African this week. Clearly last week's big course suited Johnson (he actually ranked last in fairways hit to show that wild driving wasn't penalised) but can he perform on a much tighter track like this? In theory, you might think not but two previous starts in this event yielded a 10th on debut in 2008 and a 16th in 2010. He'll be brimming with confidence after his Hyundai win and his third place on last week's Putting Average stats shows he does cash in on his big-hitting despite the perception that he misses too many putts.
Course form: 16-10
2013 form: 1
World ranking: 12
Webb Simpson (16/1): Simpson was leading the aborted first attempt to play the opening round at the Hyundai but in the end the US Open champ wasn't a factor as he came home in 11th, a full 12 shots behind the winner. Simpson has played this event in each of the last four years but his ninth on debut remains his best finish so far. His opening four-under 66 last year matched his best round at Waialae but he doesn't stand out as the type of player who usually flourishes on this track.
Course form: 38-46-MC-9
2013 form: 11
World ranking: 14
Matt Kuchar (16/1): By contrast to Simpson, Kuchar's steady game should work well at Waialae although his record is somewhat confusing. In nine starts he's missed the cut no less than six times but on the three occasions he has made it to the weekend the American has managed a fourth (2002) and a fifth (2012). Kuchar improved his score each round (74-71-69) to finish ninth in the Hyundai so he should have some nice momentum and, in terms of age and course experience, he does fit the mould of past winners here.
Course form: 5-MC-MC-65
2013 form: 9
World ranking: 22
Keegan Bradley (16/1): Bradley's presence means four of the beaten US Ryder Cup team head the market and, with Johnson winning the opener, perhaps others in Davis Love's team can start to banish the memories of Medinah. Bradley played plenty of good golf to finish fourth in the Hyundai and showed off his ability as a fast learner by improving on his missed cut on debut here in 2011 to finish tied 13th last year. Was poor on Waialae's greens 12 months ago so will need to sharpen that aspect of his game up this time.
Course form: 13-MC
2013 form: 4
World ranking: 11
Carl Pettersson (20/1): The big Swede had a solid week at the Hyundai, finishing eighth, but this is his preferred tournament of the two-legged Hawaii Swing. He proved that again last year when finishing joint runner-up, an improvement on his previous top 10s in 2010 (fifth) and 2006 (10th). He seems happy with his game and as a proven winner - Pettersson has five Tour titles under his belt - he has to rate as a live challenger again.
Course form: 2-MC-5-MC
2013 form: 8
World ranking: 30
Tim Clark (22/1): The South African is the first player mentioned so far who didn't tee it up in the Hyundai last week. Nine of the last 14 winners of this event had played in it which slighly counts against him but he has plenty of other boxes ticked. The obvious one is course form. Clark has played three times and his finishes of 12th in 2009, 25th in 2010 and 2nd in 2011 included two final-round 64s. After a frustrating time with injury, he hit form again in the second half of 2012 and his last start produced a fourth place in the 36-hole Nelson Mandela Championship in South Africa last month.
Course form: 2-25-12
2013 form: n/a
World ranking: 90
Zach Johnson (22/1): Johnson finished below halfway at the Hyundai but he's a past winner here on a course which is a far better fit. Although his victory in 2009, achieved with a winning score of 15-under, is Johnson's only top 10 from seven starts, he's posted plenty of low rounds at Waialae and topped the putting stats when 12th in 2010. Johnson is a nine-time PGA Tour winner which is three times as many as Kuchar so, on those stats, he looks the better bet of the two American Ryder Cuppers.
Course form: 54-MC-12-1
2013 form: 18
World ranking: 25
Charles Howell (22/1):
Chucky Three Sticks has been an each-way punter's pal in this event down the years with three top fives in the last four years and six in the last 11. The lack of a victory could suggest misfortune but he's had his chances and simply not taken them. His career record of two wins from 364 Tour starts shows how much trouble he has getting over the line. Ended last season in good form so expect to see him on the leaderboard.
Course form:
2-MC-5-4
2013 form:
n/a
World ranking:
119
Best of the rest
This week it's more a style of player that qualifies for this group. The last 10 winners of this event share several identical traits. All had previously won at least twice on the PGA Tour; all had played in the Sony at least twice before; all were over 30 years of age. If we use as a final filter the fact that nine of the last 14 winners had played in the previous week's Hyundai, we're left with a shortlist of nine: Three are players already mentioned (Zach Johnson, Matt Kuchar, Carl Pettersson) which leaves these six: Ben Curtis, JJ Henry, George McNeill, Scott Piercy, Johnson Wagner and Mark Wilson.
Conclusion
Sometimes assessing golf events throws up no strong patterns and the evidence is contradictory but this is definitely a tournament where clear trends dominate.
So, as mentioned, history says we should focus on experienced players who have won a couple of times and know the course.
Good course form hasn't proved a must but it's hard not to lean towards it if on offer (although I'll ignore it with the final tip).
So, I'm left with a shortlist of four.
Mark Wilson won the event in 2011 and was also in the top 25 in both 2008 and 2010.
Surprisingly to many, he's notched up five PGA Tour wins and the last three (two in 2011 and one last year) have all been on the early West Coast Swing. Even the other two were at the beginning of March so this is very much the time of year to back him.
He was a more than respectable 11th at the Hyundai so take this vastly underrated player at an appealing 55/1.
Carl Pettersson's strong course form (second last year, fifth in 2010) and the fact that two of his last three wins have come on par 70s makes him a big player this week.
He's the ideal profile and there was plenty to like about his eighth place in the Hyundai.
Next up is Scott Piercy, who has posted a PGA Tour victory in each of the last two years.
He was a decentish tied 13th in the Hyundai and although he's missed the cut here a couple of times, he does have a 12th and a 23rd and has twice gone round in 65.
Finally, let's stick to the plan and add JJ Henry at 125s.
The former Ryder Cup star won in Reno last August and finished 13th (above halfway) in the Hyundai where he was first for Driving Accuracy, 3rd for Greens In Regulation and 10th in Putting Average.
The reason for his big price is some very iffy looking course form: 68-MC-MC-66.
However, Johnson Wagner had suffered three missed cuts here before winning this last year so wins at Waialae can come out of the blue.
One more thing.... given that they played two rounds on Monday and one on Tuesday, it's fair to assume that those coming from the Hyundai will be sharper and faster out of the gate.
So also back Wilson to be round one leader.
He was joint round one leader at the Hyundai on Monday and second after round one in this event when he won it in 2011.
He has the required early tee-time to get off to a flyer.
Tips
1pt e.w. Mark Wilson at 55/1 (1/4 1,2,3,4,5)
1pt e.w. Mark Wilson to be first round leader at 55/1 (1/4 1,2,3,4,5)
1.5pts e.w. Carl Pettersson at 20/1 (1/4 1,2,3,4,5)
1pt e.w. Scott Piercy at 33/1 (1/4 1,2,3,4,5)
0.5pts e.w. JJ Henry at 125/1 (1/4 1,2,3,4,5)