Tiger Woods returns to Torrey Pines for Farmers Insurance Open this week
Tiger Woods is delighted to be starting his PGA Tour season at Torrey Pines this week, where he has won seven times.
Last Updated: 23/01/13 8:08pm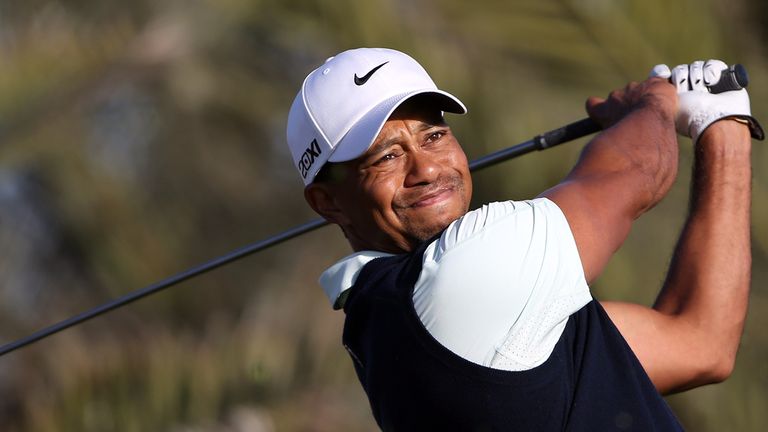 Woods has seven wins at the coastal San Diego course, including his famous US Open victory in 2008 when he beat Rocco Mediate in a play-off despite suffering with his knee injury.
The world number two has only played at Torrey Pines once since that 2008 US Open win, but he still holds the place in huge regard as one of his favourite courses.
And now with his injuries and scandals seemingly behind him, and plenty of time to work on his new swing he will have no excuses playing at a place he loves this week.
"I feel comfortable here, there is no doubt," said Woods. "There are few courses that are like that where I've had my share of success where either I've won or been in contention to win.
"Firestone, Augusta, I just feel comfortable on those venues. My record over those three courses has been pretty good."
Woods has dominated events at Torrey Pines, but he was surprised by the dry condition the South Course was in when he caught his first glimpse of the seaside track.
"Obviously, they haven't had a lot of rain here. The fairways are quick, the greens are a little bit firm.
"For this time of the year, it's drier than we normally play it, so it will be a wonderful test. We get this every now and again with the Santa Ana winds blowing. It's a little dry, but normally it's not like this."
Woods will never forget his 14th and last major title at Torrey Pines, playing his 19-hole play-off with Mediate basically on one leg as his knee required surgery after that tournament.
"I remember several things," he said. "Number one that comes to my mind every time I look at it or see highlights of it is just the pure pain that I was in. I don't ever want to experience that again. That was a very, very difficult week. I really don't know how I quite got through it.
Injury
"Then on the Saturday afternoon was a pretty cool little back nine stretch where I had a little bit of a run. And the putt on 18 to get into it was certainly a putt I'll never, ever forget."
Woods says his game is in better shape now having spent time on his short game at the back end of the year, but he believes it is now harder than ever to win with so many good players around capable of winning.
"I'd say it's deeper, yes. There is no doubt. Each generation, it gets a little more difficult," Woods said. "The spread between the leader and the cut is no longer 13 shots, 12, 13 shots. Sometimes it's as few as eight, so you've got 70 plus guys within 8 shots of the lead going into the weekend.
"That's a big jump. That's certainly been probably the biggest difference is that you have more guys going into a weekend with a chance to win, and they are. They can win from anyplace.
"The gap's gotten smaller in that regard. You have the equipment changes, the balls just don't move as much. The faces are bigger and faster, and consequently, the guys hit the ball straighter."