Farmers Insurance Open: Phil Mickelson sorry for comments about tax law
Phil Mickelson has apologised for making 'insensitive' comments about having to pay more state tax on his earnings.
Last Updated: 24/01/13 11:19am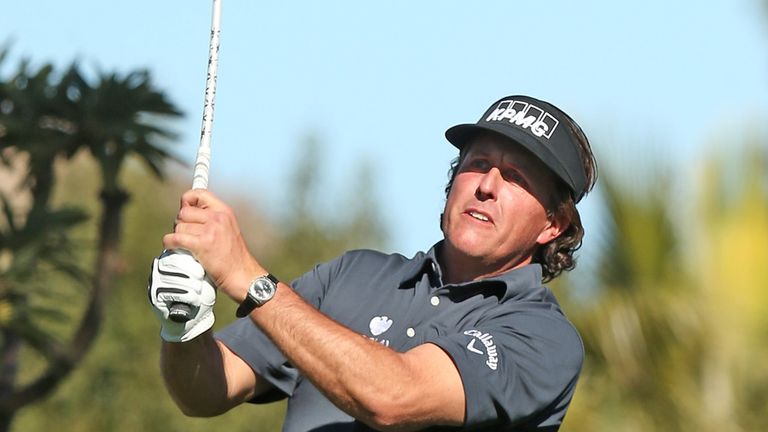 Mickelson reacted to Californian state tax rises by saying he could be forced to move away to somewhere with more favourable tax laws.
Comments coming from a man with $67million (£42.3m) in career earnings and huge private sponsorship deals did not go down well with the American public, and Mickelson quickly issued a statement to apologise.
As he faced the media ahead of the start of the Farmers Insurance Open, which is played at Torrey Pines close to his native San Diego, Mickelson again said making those comments was a bad move.
"You know, I've made some dumb, dumb mistakes, and, obviously, talking about this stuff was one of them," said Mickelson.
"Like Winged Foot, where I tried to carve a 3 iron around a tree and get it up by the green, I make double bogey and lose the U.S. Open, I think I'm going to learn my lesson and take a wedge and get it back in play.
"I made a big mistake talking about this stuff publicly, and I shouldn't have done that.
"My apology is for talking about it publicly, because I shouldn't take advantage of the forum that I have as a professional golfer to try to ignite change over these issues.
Plans
"I should have talked about because I don't have a plan formulated yet on what I'm going to do. And when I do come up with a plan I'll be able to talk more about it publicly then. But I shouldn't have brought it up publicly and used this platform as a way to say what I had to say.
"I think that it was insensitive to talk about it publicly to those people who are not able to find a job, that are struggling paycheck to paycheck. I think that was insensitive to discuss it in that forum. So that's why I issued a statement, because I shouldn't have brought it up at all, and I didn't want to wait."
Mickelson insisted it will not affect his chances at Torrey Pines this week, as Tiger Woods returns to PGA Tour action after his Abu Dhabi nightmare last week.
"I've said some stupid things in the past that have caused a media uproar before," said Mickelson. "It's part of my life, and I'll deal with it. It's just part of the deal.
"One of the things I pride myself on is whatever it is I'm dealing with in my personal life, once I get inside the ropes, I need to be able to focus on the shot at hand and be able to focus on shooting a low score."