Vijay Singh confirms he used deer antler spray; says he was unaware it may contain banned substance
Vijay Singh has admitted using a deer antler spray but says he was unaware it contained a banned substance.
Last Updated: 31/01/13 5:25pm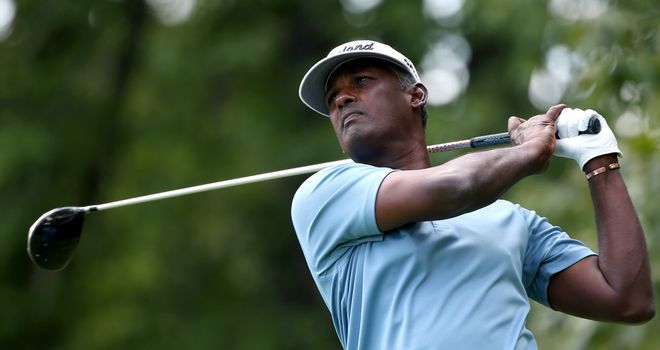 The spray is produced by Sports with Alternatives to Steroids (SWATS) and includes IGF-1 (insulin-like growth factor), a natural anabolic hormone that stimulates muscle growth.
"While I have used deer antler spray, at no time was I aware that it may contain a substance that is banned under the PGA Tour anti-doping policy," Singh, 49, said in a statement on Wednesday.
"In fact, when I first received the product, I reviewed the list of ingredients and did not see any prohibited substances.
"I am absolutely shocked that deer antler spray may contain a banned substance and am angry that I have put myself in this position. I have been in contact with the PGA Tour and am co-operating fully with their review of this matter."
Singh, a three-time major champion who is renowned for his workaholic approach to the game and has struggled with back problems in recent years, is scheduled to play in the PGA Tour's Waste Management Phoenix Open this week in Scottsdale, Arizona.
The PGA Tour said earlier on Wednesday it would look into a Sports Illustrated report linking Singh with use of the deer antler spray.
"As we have just been made aware of the report we have not had a chance to review it in depth, but we will be looking into it," Tour vice-president Ty Votaw told USA Today Sports.
The article quotes former world number one Singh as saying he used the spray "every couple of hours...every day" and was "looking forward to some change in my body".
Two years ago, 1989 Open champion Mark Calcavecchia was advised to stop using such a spray, and PGA Tour spokeswoman Laura Hill said at the time: "The PGA Tour regularly warns players of the risks associated with all supplements."
Since the PGA Tour's anti-doping programme was launched in July 2008, American journeyman Doug Barron is the only player who has been suspended for a violation.
Barron, then 40, was banned for one year in November 2009 for taking a performance-enhancing drug.