Lee Westwood was delighted to have his father by his side at AT&T Pro-Am
Lee Westwood admits it was extra special to have his father by his side as he made a fine start to the AT&T Pro-Am.
Last Updated: 08/02/13 11:13am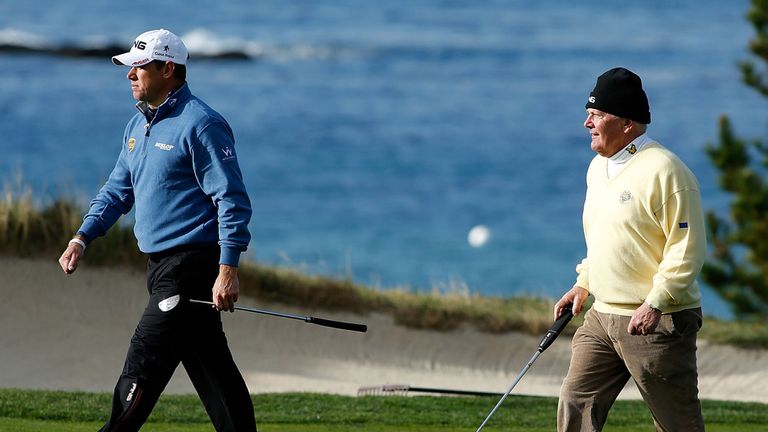 This week's PGA Tour event is played over three courses; Monterrey Peninsula, Spyglass Hill and Pebble Beach and it was at the latter that Westwood shot an excellent 68 to finish the opening day just a couple back of early pacesetters Russell Knox and Hunter Mahan.
Afterwards the Englishman revealed he and his father, John, had joined forces to win a pro-am in the past, but conceded it would be rather more special to do so on one of golf's most famous tracks.
"We played in South Africa once before at the Dimension Data in 2000 and won, we won the team and I won the individual," Westwood expalined. "So I've been through that kind of emotion before.
"But to do it here at Pebble Beach would really be special. We enjoy playing together and this is going to be one of the great weeks of the year for me.
Biggest thrill
"There's a long way to go but I'm off to a nice start, a 68, and I don't think that does you any damage on any of these golf courses."
Having committed to a full PGA Tour schedule for the first time this season, Westwood acknowledged he was delighted just to be able to share this week's experience with his father
"It's the biggest thrill," he added. "We didn't play Pebble (Beach) in the practice rounds because I have played it in so many US Opens and things like that, so that was my Dad's first look at it.
"To actually play in a competition in the AT&T with your dad and tick that one off is something really special. It's just a magical place to play golf. I've always said it's my favourite place.
"He's had a massive influence on me. He's the reason really I've got so good at the game. You know, he and my mum invested a lot time in me when I was growing up."