John Merrick delighted to claim first PGA Tour victory in hometown of Los Angeles
John Merrick admitted it was a "dream come true" to claim the first PGA Tour victory of his career in his hometown.
Last Updated: 18/02/13 1:45pm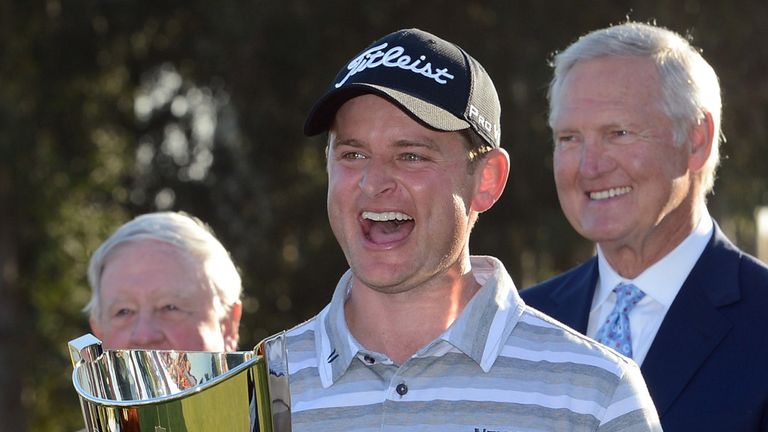 The 30-year-old held his nerve to beat Charlie Beljan at the second hole of a play-off to emerge victorious at the Northern Trust Open on Sunday.
After a couple of runner-up finishes, Merrick conceded he could not have chosen a more special place to open his account than at Riviera Country Club - a course he played regularly during his university days.
"Growing up as a kid I went to a lot of these tournaments and played a lot of rounds here while at UCLA," Merrick stated.
"To get a win in my hometown, it's amazing. It is a dream come true. Gosh, I can't believe it. It has not sunk in yet for sure.
"When you're alone sometimes, you think about different scenarios of winning tournaments. You dream. But to win? I can't describe it. It's so much fun."
Merrick revealed he had found it difficult to focus on the job in hand as he came down the stretch as excitement at the prospect of winning threatened to get the better of him.
Nervous
"It's so hard not to get ahead of yourself," he continued. "You get these flashes in your head thinking about winning and you're like, 'Oh, my gosh, what am I doing? I've still got four or five holes left.'
"My caddie and I kept talking, 'Slow down, slow down, play your shot as best you can and just keep moving forward.' I was nervous. I was just trying to grind it out, be tough and do the best that I could."
Beljan, who secured his maiden PGA tour victory at the Children's Miracle Network Hospitals Classic last November, remained philosophical after narrowly missing out on victory
"Life's good, life is good," the 28-year-old told reporters after his missed five-foot par putt at the driveable par-four 10th handed Merrick the title.
"Today was only my fifth round at Riviera. Coming down the back nine, I didn't strike the ball that well, but God, I made every clutch putt that you would ever ask to make.
"And then to make that putt on 18 and hear the roar, that was really special. Obviously not the way I wanted to end it, but you know what, you win some, you lose some, and that's how it goes."