Colin Montgomerie upset at putter ban debate dividing golf across Europe and USA
Colin Montgomerie is frustrated at how the debate on banning the anchored putting stroke is dividing golf.
Last Updated: 25/02/13 5:46pm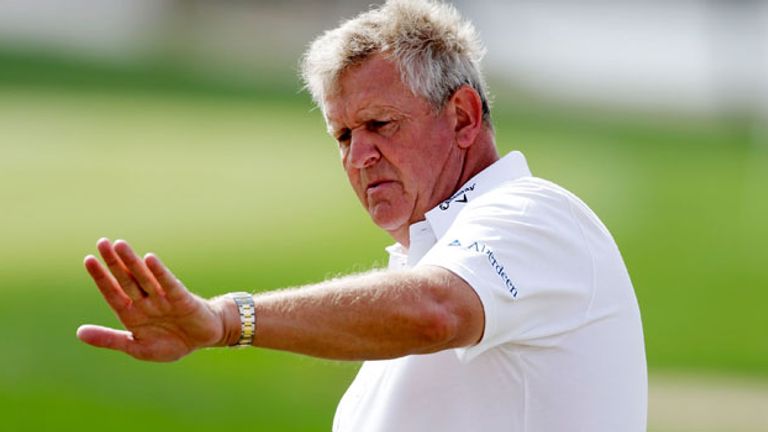 The PGA Tour revealed on Sunday its opposition to the proposed ban with commissioner Tim Finchem saying there wasn't enough evidence to show a competitive advantage was gained by using a long putter or belly putter.
The U.S. Golf Association and Royal & Ancient Golf Club announced the proposed rule change on 28 November and offered a 90-day comment period.
Despite Fincham insisting the PGA Tour was not quite ready to ignore the ban and do its own thing, signs of a split across the governing bodies is a growing concern.
Montgomerie told Sky Sports: "The R&A and USGA have served the game of golf for a long, long time and long may that continue. But this has opened up a whole new can of worms.
"It's a very dangerous situation we are getting ourselves into and I do hope they can sort this out very, very quickly. I thought, as we all did, that the rules of golf were set by the R&A and the USGA.
"Tim Finchem has obviously thought otherwise. Whether the European Tour think that or not has to be debated too."
The European Tour has not sided with the PGA Tour so far, although chief executive George O'Grady said in November: "I would urge the Tour to follow the rules as laid down by the governing bodies.
View
"The view of our leading members and our players must be listened to, but I haven't heard one of our members want to break away at the moment. They want to be connected to the game."
Montgomerie added: "I think we should go with what the R&A and USGA feel. Whether the long putter should have been banned 20 years ago or not, it should be banned now.
"We should abide by that. To now go against that and say 'my players aren't going to go by that' then what happens when you come to USGA events or the British Open?
"Does that mean you have to use a different club? Does that mean other rules can change as well? We want to play as one under the same rules."
Finchem has stated that of his 15-strong Player Advisory Council, all but two were opposed to the ban.
The USGA said in a statement: "We have had many productive conversations across the golf community, which is a reminder of just how much people care about the game regardless of their position on this issue.
"As we consider the various perspectives on anchoring, it has always been our position that Rule 14-1b aims to clarify and preserve the traditional and essential nature of the golf stroke, which has helped to make golf a unique and enjoyable game of skill and challenge. It is our plan to take final action on the proposed rule in the spring."
Finchem added: "An awful lot of amateurs today use anchoring and a number of players on the PGA Tour who have grown up with a focus on perfecting the anchoring method, if you will, did so after the USGA on multiple occasions approved the method years ago.
"For us to join in supporting a ban we think as a direction is unfair to both groups of individuals. On this issue we think if they were to move forward they would be making a mistake."