Honda betting guide
Dave Tindall previews this week's Honda Classic in Florida and picks out his best bets.
By Dave Tindall
Last Updated: 26/02/13 3:50pm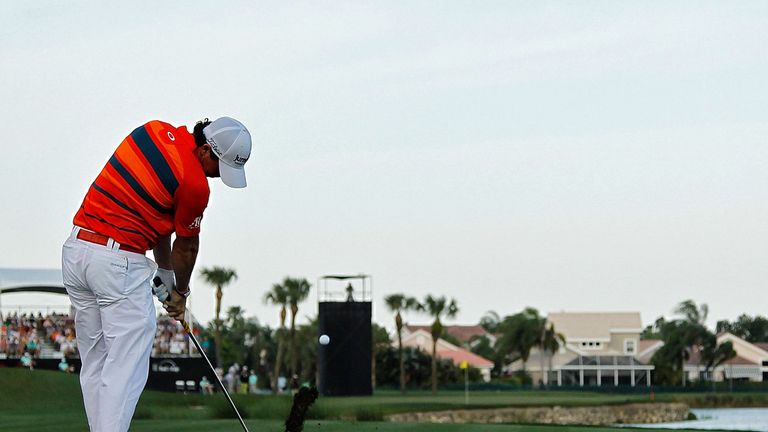 The Sunshine State of Florida welcomes the PGA Tour for the first time in 2013 as a top-class field, including Tiger Woods and Rory McIlroy, contest the Honda Classic.
Although Honda has sponsored this event since 1982, the Champion Course at PGA National is relatively new to the schedule.
This year's tournament will be the seventh at the Tom and George Fazio-designed layout that was given its most recent facelift by Jack Nicklaus in 2002.
The Champion Course at Palm Beach Gardens was opened in 1981.
Many in the field will be glad to return to strokeplay after early exits in last week's WGC Match Play while the two finalists in Arizona, Matt Kuchar and Hunter Mahan, sit this one out.
This could be a good week for the overseas-born players as just one American has captured the title in the past eight years.
As usual, Sky Sports will have live coverage of all four days' action, with the first broadcast at 8pm on Thursday.
The course
The Champion Course at PGA National was the venue for the 1983 Ryder Cup and, in an ultra-tight contest (unusual back then), it took a Lanny Wadkins birdie at 18 to deny Europe a first triumph on U.S. soil. The 7,110-yard par 70 is best known for the tough three-hole stretch from 15-17 called the Bear Trap (named after Jack Nicklaus - the 'Golden Bear'). Since this event moved to PGA National in 2007, the Bear Trap (par three 15th, par four 16th and par three 17th) has accounted for 24 percent of all bogeys, 56 percent of all double bogeys and 74 percent of all triple bogeys.
The weather
First thing to note is that there won't be any snow this week! However, the course is due to be hit by rain in the build-up and the wet stuff could come down again in Sunday's final round. Thursday-Saturday should see the usual Florida sunshine with temps in the low 20s. The big factor though on this exposed course is wind and players are likely to face some gusts, especially on the final day.
Last year - Rory McIlroy
In a storyline almost too good to be true, Rory McIlroy won the tournament to go to world number one for the first time after holding off the man who used to call that position his own - Tiger Woods. Tiger had started the day nine shots behind McIlroy but shot a stunning final round 62 to put pressure on the young Irishman. However, despite Woods getting to within a shot, McIlroy closed the tournament out in impressive style to record a two-shot victory. Tom Gillis shared second place with Woods.
The leading contenders (and Sky Bet odds)
Tiger Woods (8/1): This event didn't used to be on Woods' schedule but he added it when he moved to neary Jupiter Island in 2011. And it was almost a "home" win straight out of the gate for Tiger after his storming final round 62 gave him a tie for second. Earlier in the week he'd endured an awkward press conference after being repeatedly questioned about Hank Haney's book about him so maybe that was part of the reason behind his muted play early on. Tiger has been feast or famine so far in 2013 with a win at Torrey Pines sandwiched between early exits in Dubai (MC after a two-shot penalty) and a R1 defeat in the Match Play.
2013 form: L64-1-MC
Course form: 2
Florida form: 40-1-WD-2
World ranking: 2
Rory McIlroy (12/1): There might not be many opportunities to back Rory at this sort of price in 2013 - especially at a tournament where he's the defending champion. The price, of course, is due to his current form which shows a missed cut and a first round World Match Play exit in his only two starts this year. The world number one says it's just a timing issue; the cynics say he can't get used to his new Nike clubs. Before he won this tournament last year he'd had a couple of iffy finishes at the Champion Course so maybe if he's not on his game he'll struggle again although it must be a plus that he's now living near the course. It's all a bit of a guessing game at the moment with Rory although those who sport "form is temporary, class is permanent" t-shirts will no doubt be backing him at this price.
2013 form: L64-MC
Course form: 1-70-40-13
Florida form: MC-3-1-10
World ranking: 1
Charl Schwartzel (12/1): He can give the ball a big tonk but it wasn't too much of a surprise to see the rather frail, used-to-the-sun South African struggling in the cold and snow in Arizona. Before his first round exit he was on fire with an unlucky near-miss on his debut at Riviera and a second place on home-soil in the Joburg Open. Those two finishes added to his massive 11 and 12-shot wins pre-Christmas so he really is one of the most in-form players on the planet. Schwartzel is yet another of the big guns who resides in Florida and he's had two good performances in this event with a 14th in 2011 and a top five last year. Definitely one for the shortlist here.
2013 form: L64-3-2
Course form: 5-14
Florida form: MC-4-5-26
World ranking: 14
Justin Rose (12/1): Unlike Wood, McIlroy and Schwartzel, Rose avoided a first round Match Play exit although his tournament didn't last much longer as he went down 4&2 to Nicolas Colsaerts in round two. Prior to that he was 16th in Qatar and a lip-out from reaching a play-off in Abu Dhabi. This is the Florida-based Englishman's fifth start in this event and he's had some excellent results with a third in 2011 (he closed with a 64) and a fifth last year after two 66s gave him the halfway lead. A winner of the WGC Cadillac Championship in Florida in 2012, Rose said of the Champion Course last year: "This is definitely a limit-the-mistakes kind of golf course. I think it rewards good ball-striking. I think it rewards good thinking, and I like to play that style of golf."
2013 form: L32-16-2
Course form: 5-3-MC-15
Florida form: 51-15-29-1
World ranking: 6
Louis Oosthuizen (22/1): Oosthuizen is yet another of the growing Florida pack and, after a period of adjustment, he's really started to flourish on American soil, as shown by his near-miss in last year's Masters. The South African has already posted an early-season (home-soil) win in the Volvo Golf Champions and, as with some of the other big names, perhaps an early exit (second round in his case) from the Match Play wasn't the worst thing in the world. Somewhat unusally he's withdrawn from this event after round three both times he's played here although he wasn't threatening the lead either time. His overall Florida record is modest but surely it's only a matter of time before his new local knowledge kicks in.
2013 form: L32-34-1
Course form: WD-WD
Florida form: MC-20-60-WD
World ranking: 5
Graeme McDowell (25/1): Like all his rivals in the front six of the betting he's based in Florida; unlike his rivals, he actually made a decent fist of the World Match Play by getting to the quarter-finals. His only other start this year was a missed cut at Riviera so hopefully he's now blown the winter rust away. The 2010 US Open champion enjoys this event and has made the top 10 in each of the last two years, carding 64s in round two last year and round four in 2011. He was also runner-up in the Arnold Palmer Invitational last year so he's got some very useful form on Florida soil.
2013 form: L8-MC
Course form: 9-6-31
Florida form: MC-2-13-9
World ranking: 19
Lee Westwood (25/1): Westwood was another of the "first round exit" club in Arizona but that at least gave him more time to get back to his new Florida base which is only a short drive from here. So far in 2013 Westwood has finished fifth in Abu Dhabi and 46th (Pebble) and 21st (Riviera) in his two US starts. He was 14th and sixth at halfway in those two events so there are some encouraging signs and hopefully with a bit more golf under his belt he can come on strong on the weekend. This has been a good tournament for him in the past and he improved on his debut ninth place in 2010 by finishing fourth last year thanks to a storming final round 63. He'll be able to sleep in his own bed this week so will that help him make the extra step and land what would be only a third win on American soil?
2013 form: L64-21-46-5
Course form: 4-29-9
Florida form: 61-29-4-18
World ranking: 9
Best of the rest
Fredrik Jacobsen (25/1): The Swede with the rather shambling appearance is one of the form horses on the PGA Tour at the moment after a seventh at Pebble Beach, a third at Riviera when he looked all set to win and a couple of decent Match Play wins. He can also boast two top sixes in four starts in this event although all that exposed form means the bookies have clobbered his price.
Martin Kaymer (35/1): The German may be one of the very few fancied runners who doesn't live in Florida (Kaymer resides in Arizona) but he's got a solid record in the Sunshine State. Kaymer has made the top 20 in each of his last four starts in Florida while, further back, he was third in the 2010 CA Championship. Sixth in Abu Dhabi and ninth in Qatar, Kaymer made the last 16 in the World Match Play last time out.
Ernie Els (55/1): The Big Easy won the the title here in 2008 and is a big fan of the course. In his excellent weekly blog, he writes: "With us living at the Bear's Club this is pretty much a 'home game' and that's always nice. We've had some good times in this tournament over the years, the highlight being a win in 2008, and of course it's always great to come back to a place where you've won before - it always gives you a good vibe." Open champ Els went out early in Arizona but, before that, he was a pretty decent 13th at Riviera where he topped the scrambling stats.
Conclusion
Two of the last five winners here have been South African and I think the Proteas can flourish again at the Florida venue.
Charl Schwartzel, Louis Oosthuizen and Ernie Els have the added advantage of being based in Florida these days and a course which rewards good ball-striking and being able to think, grind, scramble and conquer wind plays into their hands.
Schwartzel's price is borderline but he was mightily unlucky to miss at least a play-off on debut at Riviera and here he has the benefit of some strong past course form.
Quite simply, he's in fantastic form and should be followed on a course which suits.
Oosthuizen hasn't yet come alive in this event, or in Florida in general, but his turn will come soon and at 22/1 it's worth chancing that it all clicks this week.
The 2010 Open champion is the world number five don't forget so, on that basis, it's crazy that he's only three points bigger than Fredrik Jacobsen.
Growing up in Mossel Bay, he's an excellent player in the wind and has the ideal temperament for this tough layout which was the second hardest par 70 (outside of the majors) on the PGA Tour in 2012.
Similar credentials apply to Els, who won here in 2008.
Els is an excellent performer in Florida - he's made the top five in two of his last three starts there and his last three wins on American soil have all been in the Sunshine State.
A 13th in Riviera recently is enough to convince me that he can make another bold title bid here.
The 55/1 looks generous indeed.
Best bets
4pts win Charl Schwartzel at 12/1
2pts e.w. Louis Oosthuizen at 22/1 (1/4 1,2,3,4,5)
1pt e.w. Ernie Els at 55/1 (1/4 1,2,3,4,5)