Rory McIlroy need not fear any strong arm tactics from Arnold Palmer
Arnold Palmer has said he is surprised that Rory McIlroy will not be at Bay Hill this week.
Last Updated: 20/03/13 10:51pm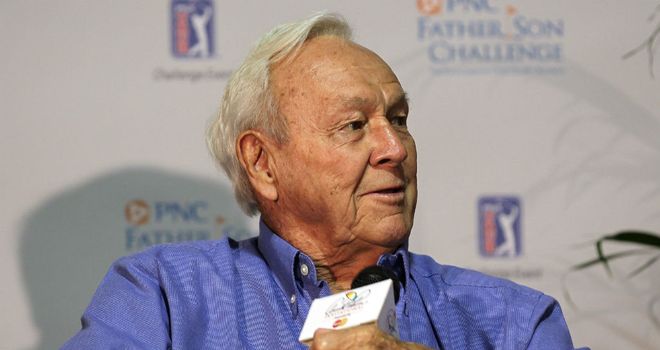 The Northern Irishman has decided to skip the Arnold Palmer invitational, instead opting to use next week's Houston Open as his final Masters tune-up event.
"Frankly, I thought he was going to play, and I was as surprised as a lot of people when he decided he was not going to play," said Palmer, 83.
"I was kind of kidding when somebody said is he playing? And I said, 'well, if he doesn't, I'm going to break his arm.' But it was meant in jest, and it was strictly a passing remark.
"I've had conversations, brief conversations with him some time ago, not recently, about his playing.
"For some reason I got it in my mind that he would be playing but that, obviously, is wrong. What his reasoning is, I don't know, and I'm not going to worry about it."
World No 1 McIlroy switched equipment and has struggled to find his form this season and came under fire for walking off mid-round at the Honda Classic earlier this month.
However, McIlroy has the support of Tiger Woods, who can reclaim the number one world ranking from McIlroy if he can claim an eighth title at Bay Hill this weekend.
"He played a limited schedule to begin with last year," said Woods. "I think last year was his first year as a member of the (PGA) Tour and this is only his second year.
"There is a big difference this year. We have two weeks before the Masters. That has a little bit to do with it, I think.
"Some of the guys are taking this week off and playing two in a row in Texas to get ready. Some guys are playing one."