Golf's governing bodies keen to avoid a split over proposed ban on anchored putting strokes
Golf's governing bodies say they are keen to avoid a split over the proposed ban on anchored putting strokes.
Last Updated: 23/04/13 11:59pm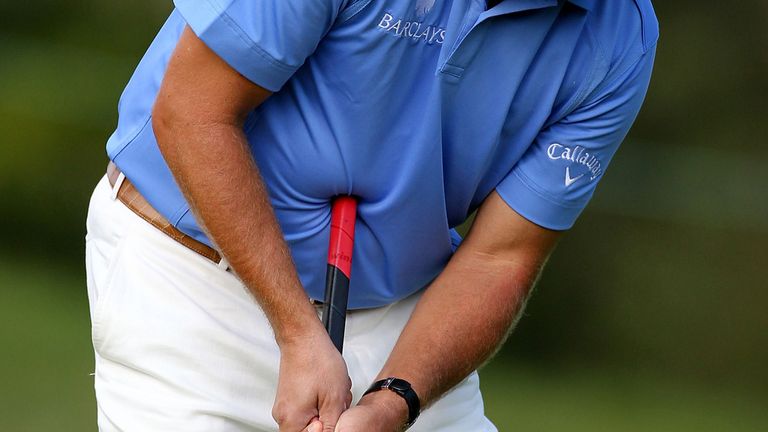 The ban on so-called belly putters put forward by the R&A and USGA would come into effect in 2016 and although the European Tour has voiced its support, the PGA Tour and PGA of America have opposed it, opening up the possibility of different rules applying in different events.
Players who currently use long or belly putters have also talked of possible legal action, but R&A chief executive Peter Dawson said: "The game does not need legal action, that would be very disappointing if that were to happen.
"But threats of legal action don't affect rule-making, that's done on what the rules people consider is the best interests of the future of the game.
"The relationship between the R&A and USGA is at an all-time high."
The PGA Tour runs the lucrative American circuit and plays a dominant role in staging World Golf Championship events.
Traditionally they adopt the rules of golf as determined by the R&A and USGA, who run the Open Championship and US Open respectively, while the PGA of America organises the US PGA Championship and American Ryder Cup team.
Dawson added: "The last thing the governing bodies want to do is be party to any kind of schism in the game. We hope that there will be one set of rules and we have to get this resolved quickly.
"The European Tour has said we are rules followers not rules makers and I would like to think the professional game in the US would have the same attitude. There is an issue in US sport in that the professional leagues do have some rules that are just for them."
Asked if action should have been taken much earlier on long putters, Dawson added: "I know many will say we were late doing this and that is unarguably true. But we did react to an upsurge in the use of these anchored strokes and one might say it's never too late to try to do the right thing."