US Open: Rory McIlroy nine shots off the lead after disappointing 75
Rory McIlroy's hopes of reclaiming the US Open title are almost certainly over after he stumbled to a third-round 75.
Last Updated: 16/06/13 11:18am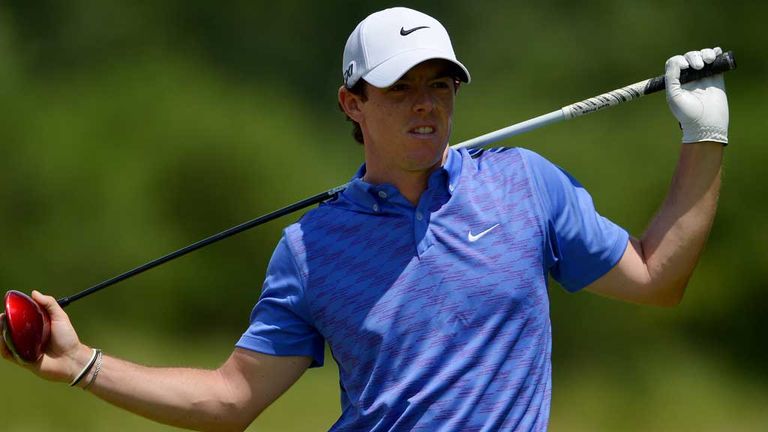 Playing alongside Tiger Woods for the third straight day, the pair began the round just four off the lead and both holed good putts for opening birdie threes.
But McIlroy then carved his drive out of bounds at the second which prompted a run of four bogeys in five holes, although he stopped the rot with a welcome birdie at the seventh.
However, he could not get his game back together and dropped further shots at nine, 11 and 15 as he returned a 75 to slip to eight over - nine shots behind leader Phil Mickelson.
"If you're not on your game a hundred percent, you get on the wrong side of the greens and it's just frightening because I didn't feel like I played too badly," McIlroy said.
"I missed a few shots here and there and I was trying on every shot out there and I was trying to get myself back into it, but it's tough.
"If you're just not a hundred percent on top of your game, it's going to expose some of your flaws or weaknesses.
"I've been working on the swing quite hard over the last few months, and it looks really good on camera. I just get on the course and I hit a couple of bad shots and I guess that it sort of makes you lose confidence a little bit during the round.
"It's just a bit of a struggle and it seems like I've had a few too many tournaments this year where I've struggled in one round or a couple of rounds and not been able to put it all together.
"I don't feel like it's too far away at all. It's just a matter of believing and staying patient and working hard and knowing that if you work on the right thing, you're going to turn it around."