Travelers guide
Dave Tindall's in-depth preview and best bets for this week's Travelers Championship.
By Dave Tindall
Last Updated: 20/06/13 9:24am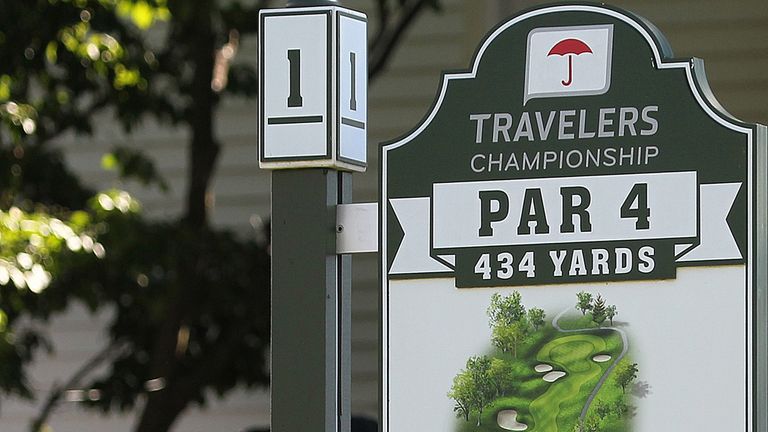 Fresh from his memorable US Open victory at Merion, Justin Rose headlines the field at this week's Travelers Championship in Connecticut.
Rose played this tournament every year from 2004-2010 although this is his first appearance since a ninth place finish three years ago when he shot a second round 62!
He has fellow recent major winners Bubba Watson and Webb Simpson for company while Hunter Mahan, who put in a bold show at Merion, is also in the field.
Lee Westwood and Nicolas Colsaerts add more Ryder Cup pedigree to what will be a stark contrast to last week.
Sky Sports, as usual, have live coverage of all four days with the first action hitting our screens at 8pm on Thursday (SS2 HD).
The course
TPC Highlands in Greater Hartford will be hosting the tournament for a 30th straight year. After the grind at Merion, birdies will be back on the menu in a big way here and, unlike the US Open track, this is a sub-7000 yard course (it measures 6,841) that actually feels short. Winning scores the last five years read -14, -20, -14, -22, -18 so the leaders' scorecards will be peppered with birdies and eagles.
Last year
Australian Marc Leishman became the second successive overseas winner (after 15 straight US wins prior to that) after a stunning final day charge. Six shots back at start of play, Leishman fired a final round 62 to win his first tournament after 96 starts on the PGA Tour. England's Brian Davis and American Roland Thatcher were the joint 54 holders but faded after level par 70s but the biggest disappointment belonged to Charley Hoffman who was two clear standing on the 17th tee but dropped three shots on the last two holes to blow victory.
The weather
Rain could be a factor in the build-up but tournament days suggest good weather, temperatures in the 80s and light winds - in other words, ideal conditions for low scoring.
The leading contenders
Justin Rose (14/1): Surely it's best to steer away from a player the week after they've won a major. Well, Ernie Els won the US Open in 1997 and claimed the Buick Classic seven days later while Vijay Singh won the Sprint International straight after securing the 1998 USPGA. Rose's life will have gone crazy since his superb win at Merion but he has the level-headed temperament to cope and his record in this event is worth a close look. He was third in 2005 and top 10 in 2007 and 2010. In the latter, his most recent start in this event, he led from the first day to the third before a poor final round.
Hunter Mahan (16/1): As with Rose, there are two ways to look at Mahan this week; he's tired after being in the thick of contention in a mentally gruelling US Open or he's full of confidence after going so close to winning a major. Mahan himself sounded upbeat afterwards, saying: "I played hard until the end and I can't be too disappointed with the results or too down on it. That's missing the whole point. I played great." The other big factor is his superb record in this event. It was the scene of his first PGA Tour win in 2007, he was runner-up either side of that and also fourth in 2009 and 11th last year.
Lee Westwood (18/1): It wasn't Westwood's week at Merion, as highlighted by his ball cannoning back of one of the wicker baskets during round two. Still, 15th spot was decent and he'd had five top 10s in his previous six starts before the US Open. This is his first start at TPC Highlands since 2005 when he was tied 51st so, unlike the others at the front of the market, he doesn't bring course form to the table.
Bubba Watson (20/1): Like Mahan, Bubba also posted his first ever PGA Tour win here, that victory coming back in 2010. Watson has also been sixth here in 2008 while last year he finished joint runner-up after a pair of closing 65s. The negative is that in 2013 we seem to be witnessing Bubba-lite. Since his fourth place at the season-opener in Hawaii, the big-hitting left-hander hasn't posted a top 10 and just can't seem to post four good rounds together.
Jason Dufner (22/1): After looking like a top 10 machine last year, amazingly Dufner hadn't posted anything better than a 12th on the PGA Tour until last week's US Open. However, thanks to a closing joint best-of-the-week 67, which actually featured a late triple bogey, Dufner took fourth place and was ranked No.1 on the all-around ranking. He's been a sporadic visitor here and doesn't have any decent course form but his last start was in 2008 and since then he's come on leaps and bounds.
Rickie Fowler (28/1): Although three bogeys in the last four holes cost his each-way backers, Fowler's tied 10th place in the US Open at Merion was still a very solid effort. He did most things well and showed why many have him down as a future major winner sooner rather than later. Fowler missed the cut on his debut here in 2009 but on his only other start in 2010 he finished 13th after shooting 65-68-66 over the final 54 holes.
Webb Simpson (30/1): Simpson didn't put up the sort of title defence he was hoping for in last week's US Open, finishing tied 32nd. However, he did finish fifth for greens in regulation for the week so struck the ball well. He's made the cut in all five appearances here and shot 65 a couple of times but he hasn't posted a top 10 in that time so, all-in-all, it's easy to see why he's being offered at longer odds than others usually in the same price bracket.
Best of the rest
Charley Hoffman (40/1): The Californian blew victory in last year's event after his final day charge went up in smoke at the finish but this is clearly a good course for him. He also shot a closing 64 in 2010 and his 11th place in this year's Birdie Average stats points to another big challenge on a course where you need to go low. His 45th at the US Open doesn't seem much but he was getting right into contention at one point so his game may not be too far away.
Nicolas Colsaerts (55/1): The monster-hitting Belgian showed up at well at Merion on a course that didn't suit so he should be much more comfortable at River Highlands where he'll be able to give it a rip and go hunting for birdies. Results such as eighth in the Zurich Classic and 10th at Merion suggest he's starting to really find his feet on the PGA Tour and it could just be a matter of time before we see that big breakout performance which he's clearly threatening.
Conclusion
Despite the sudden hectic schedule (David Letterman etc) I am tempted to back Justin Rose to win again with his confidence now sky-high. His good course form adds further temptation for the trigger finger.
However, I'll instead test the theory of backing players who had a good week at a major without ever really getting in the hunt for victory at the finish.
Rickie Fowler fits the bill and, after his 10th place at Merion, I'll take him each-way at 28/1.
Charley Hoffman won the 2010 Deutsche Bank Championship - a FedEx Cup play-off event - with a total of 22-under so can shine in a birdie-fest.
He's high up in the Birdie and Par Breaker stats this year and, after last year's near-miss here, is worth backing to go one better at 40/1.
It seems a matter of time before the hugely talented Nicolas Colsaerts puts everything together so getting 55/1 in a modest field like this could look great business on Sunday.
His 10th place in the US Open was a real confidence booster and his last four wins (two on Euro Tour, two on Challenge Tour) have followed on from respective finishes of 7th, 17th, 7th and 12th on his previous start so he likes to mark our cards before a victory.
Best bets
2pts e.w. Rickie Fowler at 28/1 (1/4 1,2,3,4,5)
1.5pts e.w. Charley Hoffman at 40/1 (1/4 1,2,3,4,5)
1.5pts e.w. Nicolas Colsaerts at 28/1 (1/4 1,2,3,4,5)