Justin Rose keeps expectations realistic at Travelers Championship
US Open champion Justin Rose admits he is uncertain how he will perform in this week's Travelers Championship.
Last Updated: 19/06/13 7:35pm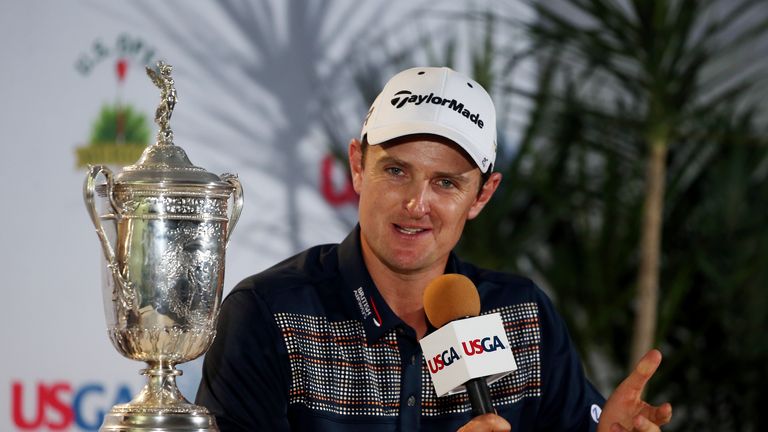 The 32-year-old is still savouring his thrilling victory at the US Open on Sunday at Merion, where his composed final-round 70 earned him a two-shot victory over fan-favourite Phil Mickelson and Jason Day.
Rose has spent the last three days fulfilling several media obligations that have taken their toll on his eating and sleeping routine, but he is determined to give a good account of himself at TPC River Highlands.
"This week is going to be 'Let's wait and see how I play'," he said. "I have to be lenient on myself from that perspective. My game is in good shape and we'll see how it carries through.
"I think adrenaline can get you through, especially if you get off to a good start because you can get on the leaderboard and then start to focus on winning.
"But I am aware it can go the other way and I have to be a bit easy on myself - but I am still expecting to go out there and put in a good performance.
"The same disciplines which applied at the US Open still apply this week and my goal is to be as sharp as I can mentally while looking forward to a slight breather from a scoring point of view."
Recharge
He has had little chance to rest following a hectic media tour to New York on his way to Connecticut, and he added: "I'm looking forward to spending time with the family and trying to get some early nights in and recharge.
"I also need to eat well. I feel that I haven't had a meal at a regular time for three or four days so I need to get back to some good habits.
Rose insisted he never considered pulling out of the tournament as he has an excellent record there, with three top-10 finishes under his belt.
"It is a tournament I really enjoy, it is almost an old-school PGA tour event, it has a lot of history," he said. "I have always had a really good time here, the tournament has treated me well over the years.
"The way I set up my preparation for the US Open was a three-week run trying to stay fresh mentally. I figured I wouldn't interrupt the thought process."