Denis Pugh says Blixt's attitude lacking in Wagner and Walker
Denis Pugh said Johnson Wagner and Jimmy Walker lacked the aggression to win the Greenbrier Classic.
Last Updated: 08/07/13 12:08pm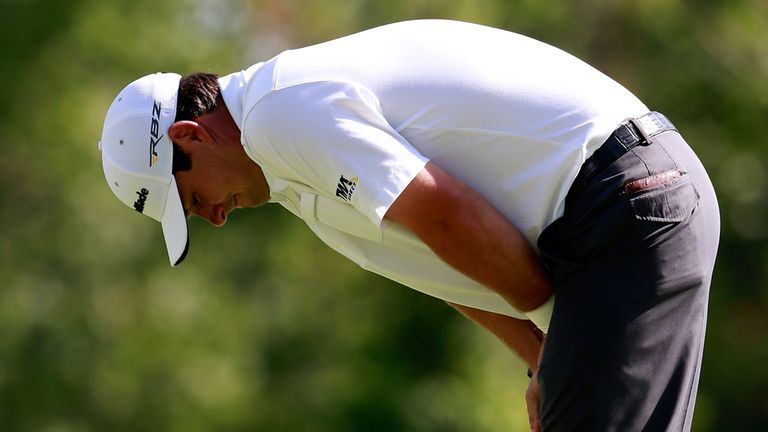 The American duo went out last at Old White TBC on Sunday - after a three-hour rain delay - but they were both overhauled by Swedish star Jonas Blixt who shot a closing 67 to win by three shots.
Denis Pugh was impressed by his approach as he overhauled a four-shot deficit to Wagner and a two-shot deficit to Walker in the final round.
But in contrast he saw the leading duo feed off each other's negativity with Wagner's problematic swing returning to haunt him and Walker failing to make the most of his early promise.
Pugh told Sky Sports: "The surprise was that Jimmy Walker started to really hit some poor short irons. There some times when he had wedges in his hands and he wasn't even having a chance to make a birdie.
"As for Jonathan Wagner, it's very difficult to do what he was about to try to do which is miss a lot of cuts and then take the overnight lead and win after a two-hour delay that wasn't going to keep him very calm.
"His swing is not in great shape and with the amount of work that he's clearly doing, it's hard to bring it home. He wasn't served well with his putter either, as he was in the third round.
"He should try to look at the positives and say he's been working on the right lines. His coach clearly has the ideas that are necessary for him to get back to being a winner again and let's not forget he has won on tour. He's a proven winner, but didn't have the ammunition to do it today.
"In contrast, I thought Blixt took it to the field. He went out there and shot the best score he could shoot, but Jimmy Walker didn't shoot the best score he could shoot today and neither did Jonathan Wagner.
"They looked like they were defending something whereas Blixt looked like he was attacking."
Stalled
Wagner finished in the top 10 for the first time this season after missing the cut or withdrawing in each of his last seven PGA Tour events.
And fellow Sky Sports pundit Andrew Coltart agreed that both he and Walker lacked the game to see it home on the final day at the Greenbrier Classic.
He said: "Blixt holed the putts when it mattered, but the interesting thing is that the other guys didn't. Walker and Wagner kind of stalled one another.
"Wagner's swing was struggling a little bit and in the end it broke down. Walker just struggled to feed off any positivity really and the ball wasn't going in the hole.
"Wagner's game hasn't been close for a long time and he only made three birdies in four rounds running up to this. He's really struggled and missed a cut by 30 shots a few weeks ago, so he has been struggling.
"Even though he's got some good things out of this I think he can be happy with how he's performed. It was unrealistic to think he was actually going to win today with the standard of golf that he's been playing of late.
"Walker has been very consistent and only missed a couple of cuts and his all-round game is pretty good, but you've got to look at what's going on inside. I know he tried his hardest but he wasn't giving himself proper birdie opportunities.
"If you're hitting wedges to 40 or 50 feet then you're not going to win events."