Phil Mickelson determined to complete career Grand Slam of majors at US Open
Phil Mickelson has set his sights on becoming only the sixth man to complete a Grand Slam of major championship titles.
Last Updated: 22/07/13 5:50pm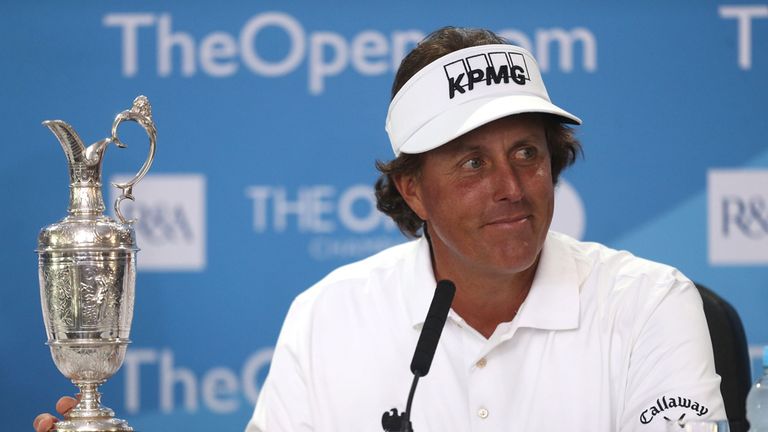 The 43-year-old stormed to a three-shot victory in the Open Championship at Muirfield after a superb five-under 66 in the final round, adding the Claret Jug to his three Masters titles and one PGA Championship victory.
The left-hander has finished runner-up in the US Open six times, but he is determined to end that hoodoo and join Gene Sarazen, Ben Hogan, Gary Player, Jack Nicklaus and Tiger Woods as winners of all four majors.
"I think that if I'm able to win the US Open and complete the career Grand Slam, I think that that's the sign of the complete great player," said Mickelson.
"I'm a leg away. And it's been a tough leg for me! Those five players are the greats of the game. You look at them in a different light. If I were able to ever win a US Open, and I'm very hopeful that I will...."
His long-time caddie Jim "Bones" Mackay is also confident that Mickelson will be able to land his national Open, which returns to Pinehurst next June - scene of Mickelson's first runner-up finish in the tournament in 1999.
"He looks forward. He works hard," Mackay said. "How many people are going to build a practice facility in his yard post-40? He wants it.
"He's stronger than he's ever been, he's fitter than he's ever been, and he's hungrier than he's ever been. And you can't underestimate how much he wants to compete and do well.
"When he's 60-something years old he's going to be on the putting green at Augusta thinking he has a chance. That's just how he is built."
Mickelson led going into the final round at Merion last month, but a closing 74 opened the door for Justin Rose to clinch his first maiden title, but he insisted the "heartbreak" spurred him onto victory at both the Scottish Open and Open Championship.
"It's a huge difference in emotions, as you can imagine," he added. "Being so down after the US Open, to come back and use it as motivation, to push me a little bit extra to work harder; to come out on top, in a matter of a month to turn it around it really feels amazing.
"I thought that it could go either way. You have to be resilient in this game because losing is such a big part of it. And after losing the US Open, it could have easily gone south, where I was so deflated I had a hard time coming back.
"But I looked at it and thought I was playing really good golf. I had been playing some of the best in my career. And I didn't want it to stop me from potential victories this year, and some potential great play.
"And I'm glad I didn't, because I worked a little bit harder and in a matter of a month I'm able to change entirely the way I feel."