The Barclays: Play suspended as Kevin Stadler leads after 11-hour round
Kevin Stadler survived an 11-hour first round to lead the rain-affected Barclays by a shot when play was suspended.
Last Updated: 23/08/13 7:46am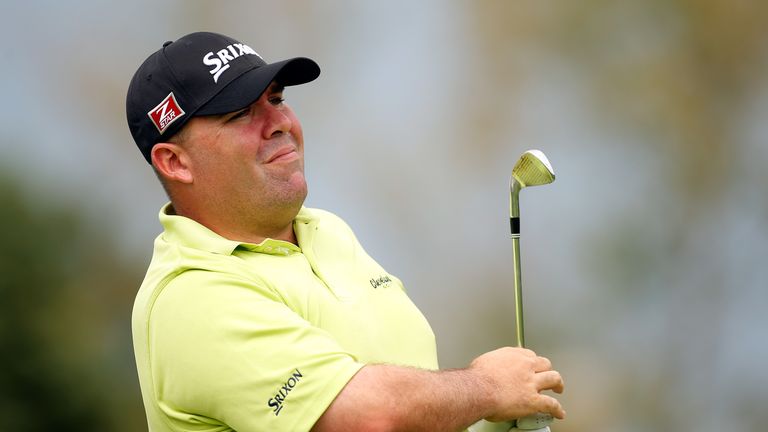 Lengthy rain delays took six hours of play out of the first day of the FedEx Cup play-offs, with Phil Mickelson and Adam Scott among the half of the field that could not finish their rounds.
Just 59 players managed to complete 18 holes before play was suspended, and the late starters will have to return early on Friday while those that completed Thursday's marathon will return late on Friday and then squeeze in any extra holes Saturday morning.
Stadley managed to maintain his rhythm through the disruptions as he carded seven birdies to card his 64, giving him a one-shot lead from Ryan Palmer, Henrik Stenson and Camilo Villegas.
Villegas had at one point been on eight-under, but then suffered two late bogies to drop back and hand Stadler the initiative.
However, not everybody had managed to finish their rounds before darkness fell, and Harris English was forced to call a halt to a lightning start to his own round, in which he made up four shots over the opening six holes to sit in a tie for seventh place.
English will now be among those facing an early start on Friday, with another long day on the cards as the tournament looks to make up for lost time.
Long days
Those at the top of the leaderboard are looking at a long wait to get going, and then the prospect of not being able to complete their rounds before darkness falls.
"I don't know what time we are going to start tomorrow," Stadler said. "It's going to be late, though, but (I) prefer to be on this side where we don't have a marathon day, but we only had to play 18 holes, so it won't take as big of a toll as the other guys, for sure."
Jason Day and Matt Kuchar were two shots off the lead on five under, while Tiger Woods was in a group of seven - including English - on four under.
The world number one missed a birdie putt on the 13th immediately after the first rain delay but then made three straight birdies on his way to a round of 67.
Woods, who has also been dealing with some back pain, is now trying to plan ahead for what will be a mixed-up schedule going into the weekend.
"I'm actually tired," Woods said. "I got up at four this morning, and I think it took us, from start to finish just under 11 hours for the day. Long day
"Tomorrow will be easy, we'll probably get in maybe six or nine holes, somewhere in there. But Saturday is going to be the really long one, we are going to get in probably 27-plus, and then be fresh come Sunday."