Luke Donald feeling at home in this week's BMW Championship in Chicago
Luke Donald hopes familiar surroundings at the BMW Championship in Chicago can boost his FedEx Cup hopes this week.
Last Updated: 11/09/13 2:37pm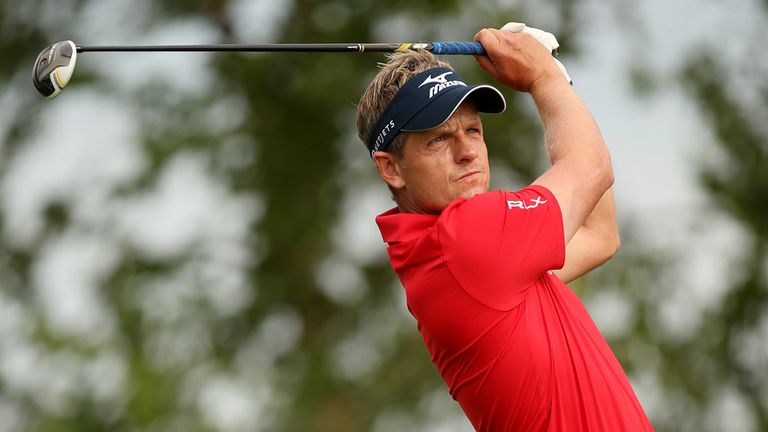 Former world number one Donald has been struggling for form this year and goes into the penultimate play-off event in danger of missing the Tour Championship for the first time since 2008.
However, the Englishman has been a long-time member of this week's venue - Conway Farms - and hopes his knowledge of the course will help give him the high finish he needs (probably a top four) to make the final 30 players who contest the FedEx finale in Atlanta.
Donald, whose influence helped Conway Farms earn the right to stage the event, said: "It's a golf club. There's no carts, no tennis courts, it's all walking.
"It has a great membership, a lot of of low, single-figure handicaps and people are very passionate about their golf here."
Asked what defines the course, he said: "Good practice facilities, good variety in golf holes - some long, some short, driveable par fours, not every par three is 240 yards. I think there's some good variety here.
"This is a course I'm very familiar with. I've been a member here the last 10, 12 years and played here during my time at Northwestern (University).
"Obviously it's never set up in tournament conditions but certainly I have a lot more familiarity than most of the players who are probably seeing it for the first time and hopefully that's an advantage for me."
New swing coach
Donald goes into the event with a new swing coach after replacing long-term mentor Pat Goss with Chuck Cook.
"I've had a lot of success with Pat, and I got to No. 1 and certainly would never take anything away from what we did together," Donald said.
"But, as a player you always know what you feel inside, and I want to just feel a little bit more in control of my ball when I'm over it. Hopefully the switch to Chuck, that will come about."
Reflecting on his year, Donald said: "I think someone who was at the pinnacle of the game not too long ago and is now 54th on the FedEx Cup, it's been disappointing."
Live coverage of the BMW Championship starts Thursday at 6pm on Sky Sports 3 HD