BMW Championship: Jim Furyk celebrates sixth 59 in PGA Tour history
Jim Furyk reflected on the best round of his career after becoming only the sixth man to card a 59 on the PGA Tour.
Last Updated: 15/09/13 7:16am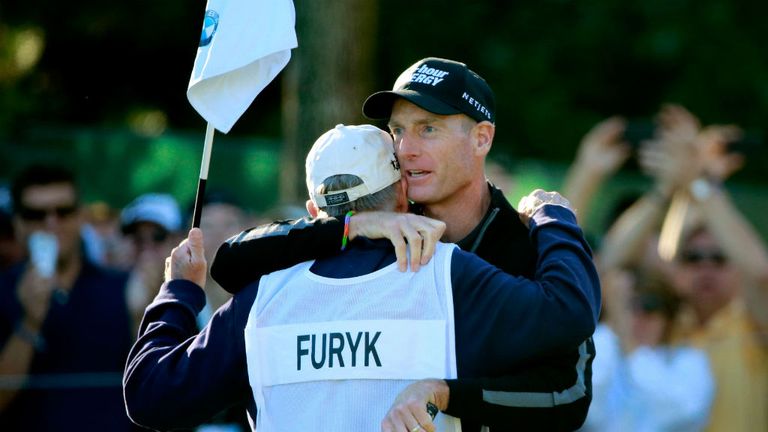 The American veteran was in a class of his own in the second round of the BMW Championship at Conway Farms, defying blustery conditions to ink his name into the history books.
His astonishing 12-under card was six shots better than the next lowest score of the day and earned him a share of the halfway lead with Brant Snedeker on 11 under par.
"It was a little hectic down the stretch," said Furyk, who held his nerve to knock a 103-yard wedge to three feet before rolling in his 11th birdie putt of the day at the ninth - his last. "I had a three-putt bogey at five and you could see the nerves at the sixth, leaving the putt short.
"I got myself back on track at seven, then I was kind of between clubs at eight with a pretty good chance to make my birdie.
"I told myself at nine, 'how many chances are you going to have in your life to do this again?'. Got to take advantage of it. Knock it in there tight and make it as easy on yourself as you can.
Wedge
Asked if this was his best, as well as his lowest, round, he nodded before adding: "I've played a couple of good ones. I remember a 62 at Doral where the next best was something like 67. I think that defines the real good rounds - a guy shoots four or five shots better than the rest of the field.
"It's a very cool card, there's not much I could have improved on. I guess the moment kind of struck me the most at nine when I hit it the wedge shot in there close, and the crowd erupted.
"It just hit me how many people had come over to see the finish and how excited the crowd was. It was kind of like winning a golf tournament to be honest with you. It made it that much more fun."
Snedeker had been satisfied with his three-under 68, and he admitted afterwards that he was stunned at Furyk's achievement given the tough conditions.
"The greens were really firm, they were really fast and crusty," Snedeker said. "The winds were real inconsistent on direction. That's just an unbelievable round of golf.
"I saw on 18 that he needed a birdie on the last hole to shoot 59, and I thought, 'What the heck, are you serious? There's no way.'
"And it's a par 71, so that's even more impressive. And on a day like this when the wind is blowing 20 miles an hour out of the north, I don't think anybody out here saw that score coming.
"That makes me feel depressed about my round. I was actually feeling pretty good about it walking up here."