Tour Championship: Leader Henrik Stenson happy with Saturday display despite late slip
Henrik Stenson said he lost rhythm on the back nine but is still happy with his four-shot lead at the Tour Championship.
Last Updated: 21/09/13 7:58pm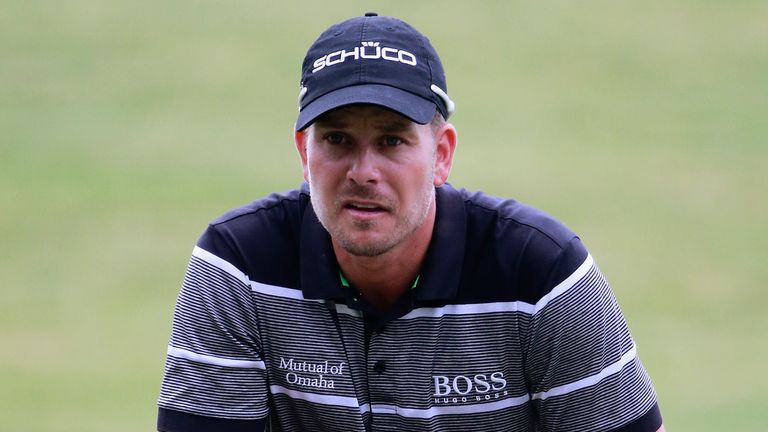 The Swede raced nine strokes clear after another superb performance on East Lake's front nine on Saturday but stumbled coming home.
His three-over 38 on the back nine meant his lead returned to four again, with Dustin Johnson now his nearest challenger with 18 holes to play.
"I've got to take the positives still," Stenson told Sky Sports. "It was tough conditions on the back nine and I hit a couple of wayward shots and it's hard to find your rhythm again when you are out in very much European conditions.
"The only one which stings a little is the three-putt on the last; I hit a very nice first putt and looked like I almost made it but missed the one coming back. I still have my four-shot lead and I'm going to go out and try to play well again.
"I lost my feel a little bit on the back nine, hopefully we have a nice day tomorrow and I can start in the same form as I have the other rounds."
As one of the top five in the FedEx Cup standings coming into the event, Stenson knows that victory on Sunday would guarantee him the $10m bonus fund on top of the $1.4m first prize.
And having lost a reported seven-figure sum in the Ponzi scheme run by disgraced financier Allen Stanford, the jackpot would be very welcome.
"[It is] not all my money, but I have quite a big part of my own savings and investments with them," Stenson said when the scandal broke. "It's a very unfortunate situation. I'm a victim as everybody else in that big thing."
Speaking after his second round on Friday, Stenson added: "It's a personal matter, but I'm not struggling by any means. For me, it's more important to leave here with two trophies. I mean, at the end of the day, it's just money, isn't it? I care more about the two trophies than I do the 11 million, that's for sure."