Frys.com Open: Jonas Blixt prepares for title defence in PGA Tour season opener
Sweden's Jonas Blixt will look to kickstart his bid for a Ryder Cup place when the new PGA Tour season gets under way.
Last Updated: 09/10/13 4:58pm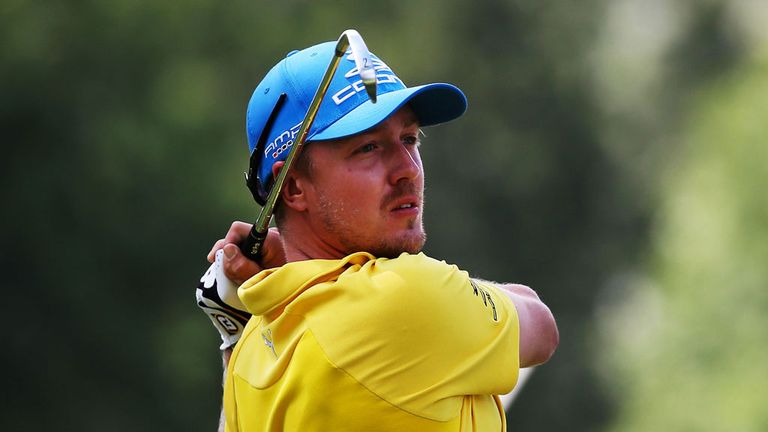 The Presidents Cup, which concluded in another victory for the United States on Sunday, officially marked the end of the 2013 season, but the new "wraparound" 2013-2014 campaign starts straight away, with Blixt defending his title in the Frys.com Open, one of six events to be played this year.
"It was a boost to my career to win the Fry's tournament last year, it bolstered my confidence and helped me play better on the Tour this season," said Blixt, who finished second in the Nordea Masters in June and won his second PGA Tour title at the Greenbrier Classic the following month.
"It was a huge milestone to get the first PGA win and to do it in such a beautiful place as Corde Valle up there, it was fantastic. To have my family there to support me at the time made it even more memorable. I couldn't be any happier about winning up there.
"It's just such a beautiful area. The golf course sets up great for my game. The greens are rolling, you get really good speed and there's nothing tricky with the Bermuda (grass) or anything. Sometimes you get on those rolls with your putter where everything kind of pours in. Sometimes the course just really fits your eye a lot."
Blixt's most eye-catching performance came in the US PGA Championship at Oak Hill in August, where he played alongside fellow Swede Henrik Stenson in the penultimate pairing in the final round, eventually finishing fourth.
The 29-year-old was also paired with Lee Westwood in the third round and quizzed the Englishman about Ryder Cup qualifying before being involved in a bizarre incident on the 18th.
His wayward drive finished in the back trouser pocket of spectator Muhammad Khokhar and after a light-hearted debate about who should remove it, Blixt was given a free drop and hit a 205-yard five-iron from a poor lie in the rough to three feet for a closing birdie.
"He asked what the qualifications are for being a European Tour member," Westwood said after the round. "I said, 'You want to join because if you don't you can't be in the Ryder Cup team'. The way he played he would be a valuable member."