Tiger Woods backs Phil Mickelson's decision to trim schedule for 2014
Phil Mickelson's decision to play a reduced schedule next year has won support from long-time rival Tiger Woods.
Last Updated: 06/11/13 3:17pm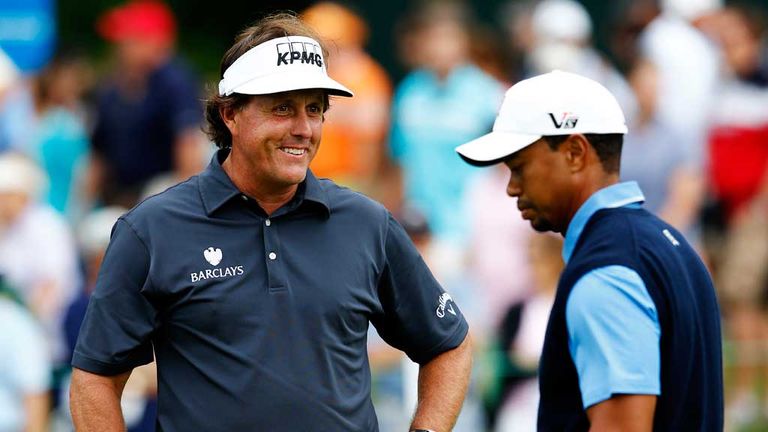 Mickelson announced last week that he will cut his tournament appearances in 2014, and he hinted that he could skip the end-of-season FedExCup play-offs despite the lucrative rewards on offer.
World No 1 Woods insisted he understood Mickelson's plan to enjoy more time away from the course, highlighting the importance of being "fresh" for the big events.
"I don't blame him (for cutting down), I don't blame him at all," said Woods, who is the star attraction at this week's Turkish Airlines Open in Antalya.
"I don't know what he's going to cut down, we have 15 tournaments as a minimum for voting membership on the PGA Tour.
"But I just think it's important to be fresh, it's important to be ready for the major championships, the World Golf Championships, the Players Championship.
"With the FedExCup at the end of the year I can see where guys are taking breaks. Some of the top Europeans are playing right now in this stretch through the Race to Dubai and then going down to South Africa.
What's best
"You need to find blocks of your time for your off season. Everybody has different times when they like to take the off season so you've just got to figure out what's best for you."
Steve Stricker played only 13 tournaments this year, but he made the cut in each event and posted eight top-10 finishes while earning $4.4m.
Woods added: "Steve cut back his schedule this year and had his best year just because he felt he was more mentally fresh and I think that's pretty important.
"It's tougher nowadays especially with our playoff system and with the European Tour and their play-off system (the Final Series) and their minimum number of events have increased.
"A guy has to play a lot more events around the world and it is very hard to stay fresh."