PGA of America consider Royal Portrush to host US PGA Championship
Royal Portrush is a candidate to host the US PGA Championship if plans to stage the event overseas are approved.
Last Updated: 16/11/13 12:58pm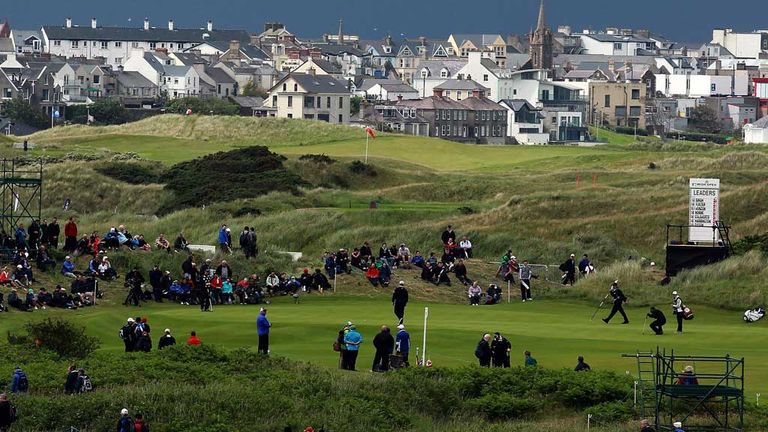 The PGA of America has commissioned a committee to look into the possibility of holding the final major championship of the season outside of the United States.
The tournament will remain in the US until at least 2019, but PGA of America president Ted Bishop has admitted the search is already underway for an overseas venue.
Asia was rumoured to be preferred destination, but Bishop has declared his interest in taking the tournament to Portrush, which hosted its one and only Open Championship in 1951.
"Royal Portrush would be a great first international major," Bishop told Golf Channel's 'Morning Drive' programme.
"I think given the powerful effect that Irish golfers have on the professional game today, that might be a good place to start."
McDowell surprised
Former US Open champion and Portrush native Graeme McDowell admitted the possibility of staging a major was "very bizarre," adding: "It's always been a dream of mine to play the Open there but the US PGA would do nicely.
"It's very bizarre and an amazing statement. I couldn't believe it and read it three times. I had heard the US PGA was looking at going global, which is a very positive step forward, but I was expecting Asia, not the north coast of Ireland.
"Even if it never comes to fruition it's a great boost to be mentioned in that breath. My brother Gary is on the greenkeeping staff there and he will have a spring in his step.
"Having three majors in America with the way the game is growing is a little too weighted. It's the fourth major of four so taking it somewhere else would really boost the interest. Asia, Australia or Europe would really embrace it."
McDowell's compatriot Rory McIlroy revealed the PGA of America had sought his views on the subject a few months ago, adding: "I spoke to Ted about it. He did not mention Portrush, just Ireland, but he has always liked Ireland as a venue.
"It's a long way down the road, maybe 10 years or so, but I would love to play a major championship at home.
"They (the PGA of America) are very forward-thinking and want to think outside the box. It's something the other majors have not done, they can't really go elsewhere. I think it's a good thing. It would be great to see.
"It would be huge. The Irish Open had a huge impact and everyone saw how well it was supported."
The Royal and Ancient Club dismissed reports this summer that the Open was set to return to the Northern Ireland links in either 2018 or 2019.#
R&A chief executive Peter Dawson admitted earlier this year that Portrush is "a fantastic golf course," but concerns remain over the infrastructure required to stage a major and Dawson felt the current nine-course Open rota was "about right".