Sony Open: Zac Johnson stays grounded despite recent success
Zach Johnson is keeping his recent hot form firmly in perspective as he seeks his third win in a row at the Sony Open.
Last Updated: 08/01/14 1:57pm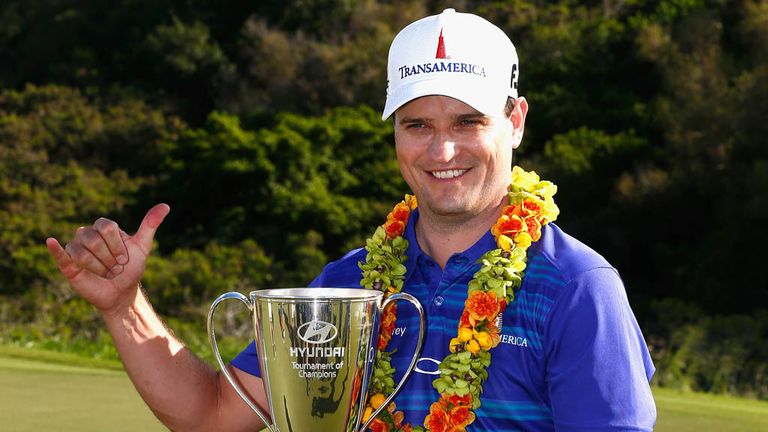 Johnson won the Northwestern Mutual World Challenge in spectacular fashion in December, holing a pitch shot for par on the 72nd hole to force a play-off with world No 1 Tiger Woods, which he won on the first extra hole.
The world No 7 then returned to action last week by claiming the Hyundai Tournament of Champions, but is not getting too carried away by his winning streak.
"We're talking about two tournaments," said 2007 Masters champion Johnson. "The last two tournaments I beat 17 guys and 29 guys, so a little perspective there too. They were not full-field events.
"I definitely feel like I've put myself in a place that this is a little foreign to me. Some of the numbers I'm not exactly comfortable with or have never been to, meaning top 10 in the world, that kind of thing.
Realist
"But I'm also a realist. I know this game at some point could beat me up again so I've just got to keep doing what I'm doing, try to keep things very simple.
"I don't want to cluster my golf game even though I'm playing great. There are going to be more media requests for me in the next couple of weeks and that's fine, I can deal with that. I dealt with that in '07, I dealt with it in '10, and '11.
"But winning a lot of golf tournaments in a row or multiple times in a four-month stretch, I'm not that accustomed to yet. I hope I can get more accustomed to it. I don't think it's going to be that big of a deal because I'm going to try to keep things as simple as possible.
"It seems to me the best players in the world that I've witnessed and watched, they don't play as much as I have in the past, but when they get to the golf course, they do the same exact thing, and that's what I'm trying to do. I'm going to try to keep doing what I'm doing."
World No 2 Adam Scott is also in the field at Waialae, along with 2013 PGA Tour rookie of the year Jordan Spieth, who finished second behind Johnson last week.