WGC-Cadillac Championship: New Blue Monster at Doral for PGA Tour players
Donald Trump will unleash his newly re-designed Blue Monster course at Doral for this week's WGC event.
Last Updated: 04/03/14 3:34pm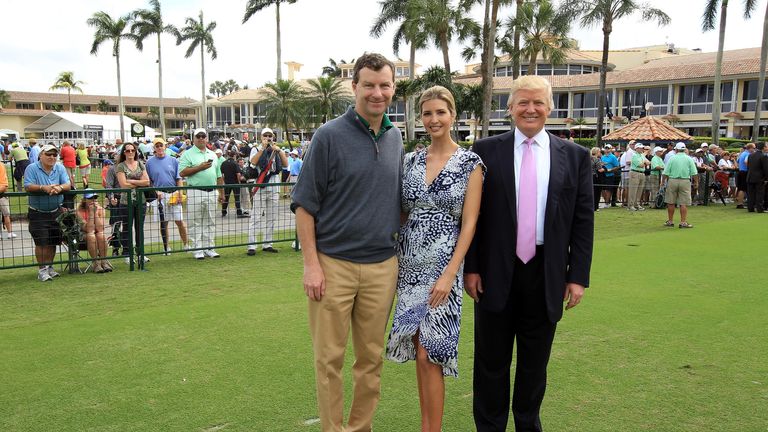 Billionaire Donald Trump brought in architect Gil Hanse, who is also in charge of the Olympic golf course for Rio 2016, to redesign the famous Blue Monster course which hadn't lived up to its name in recent times with the tournament being won with totals between -16 and -19 in the last five years.
Originally designed by Dick Wilson back in 1961, the Blue Monster has been tamed by modern equipment and longer-hitting professional golfers, who can take many of the original dangers out of the equation by bombing over the top, leaving easier wedge shots into greens originally meant for long iron approaches.
Along with making his new Trump National Doral one of the best golfing resorts around, the billionaire also wanted to make the Blue Monster itself a more testing challenge, although he insisted he did not want it to become too tough.
"No. 1, I want to hear that it's fair," Trump told the Golf Channel. "If you hit good shots, you will be rewarded for good shots. The word fairness is important. I really believe the great players are going to find it very fair."
Redesign
As with any redesign these days, the course has been lengthened, but Hanse has also tried to restore some of the challenging lines of the original design by bringing water more into play. Originally water came into play on six holes - that rises to 14 on the new layout.
New grass has been planted through, greens have been enlarged by an average of 30 percent and 5,000 new trees have been planted around the property Trump purchased for $150m.
Taking the fans into account, an 8,000 clubhouse foot terrace has been built that overlooks the 1st tee and 18th green, while new moulding has been put around several other greens to create better viewing for spectators.
Almost every hole has been tweaked, with the likes of the 1st, 8th, 9th, 15th and 16th getting the most treatment. The famous 18th, the Blue Monster the course is named after, has been left untouched and will still present the same test for the pros trying to close things out with the water and prevailing wind in their faces.
"It's obviously been one of the most difficult, challenging holes for the PGA Tour players," said Hanse. "Because of that status, because the golf course is named for that hole, it was important for us to retain it. It wasn't broke, so we didn't need to fix it."
Hole changes
The opening hole on the Blue Monster is no longer the easy eagle start of old, with 80 yards added on to take it up to 600, while the par-three ninth is now a complete carry over the same water that guards the 18th to create an amphitheatre for the fans.
The par-three 15th is also now a carry over water with a three-tiered green Hanse describes as "almost three greens within a green" meaning pin placement should be interesting. The short par-four 16th has also been toughened up to prevent players merely bombing tee shots over the trees.
"I think we started with a restoration in mind because we were dealing with a historic course and a very respected designer in Dick Wilson," said Hanse. "But as we really opened the place up, it became more of a redesign, and at this point in time it's a brand new course."
Hanse will be a nervous man as he watches the PGA Tour's finest arriving and checking out his work for the first time, but he feels he has done the best possible job for both the Tour and his employer and course owner Trump.
"We've been through this before when we re-designed TPC Boston. I never realized how much I enjoyed watching those guys play the holes we designed. You're nervous. You're hopeful."
"It has to be playable, strategic and interesting. I think we accomplished all those things.
"At the end of the day, you have to satisfy your client. We know Donald is happy with what we've done, so that makes us happy. We all understand 51 weeks out of the year, it has to function as a resort golf course and be enjoyable for guests.
"But that one week when the PGA Tour comes to town, that's when you get your reputation. I think the validation comes from the world's top players the week of the championship."