WGC Cadillac preview
A preview and best bets for this week's WGC-Cadillac Championship at Trump National Doral.
Last Updated: 04/03/14 12:40pm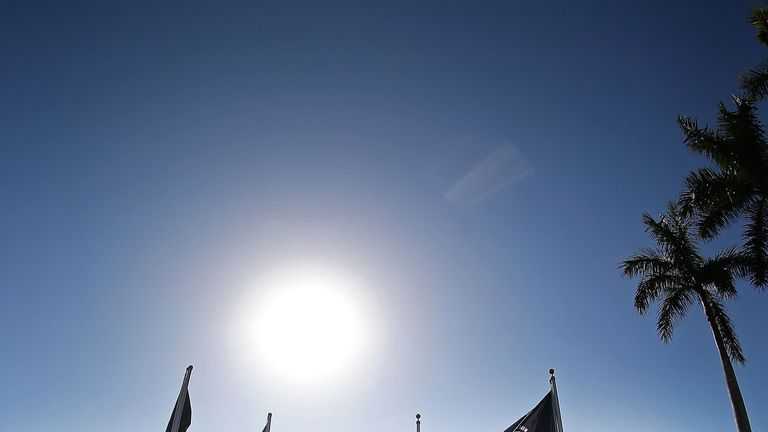 After winning scores of -19, -16, -16, -18, -19 and -17 in the last six years, the "Blue Monster" course at Doral wasn't living up to its name.
Never one to just let things be, billionaire owner Donald Trump wanted radical change and after last year's event he brought in famed architect Gil Hanse to make major changes to the Florida venue.
They're significant.
Water is now in play on 14 holes rather than six while new grass has been planted through, greens have been enlarged by an average of 30 percent and will be much trickier and 5,000 new trees have been planted around the property.
Hanse says of the £200 million upgrade to the Blue Monster: "It's pretty much a brand-new golf course."
To see for yourselves, tune in to Sky Sports on all four days, with live coverage beginning at 6pm on Thursday.
The course
After the big renovation, TPC Blue Monster at Trump National Doral is now a 7,481-yard par 72. The four holes that have been changed most radically are the 1st (80 yards added), the 9th (water shifted from the left to the right-hand side, creating an amphitheatre setting with 18 being on the same body of water), the 15th (short par 3 now played over water) and the 16th (still a driveable par 4 but players will now have to carry water if they go for the green off the tee). The green complexes are much changed so any old notes will have to be ripped up.
Last year
Tiger Woods poured in 27 birdies on the way to a comfortable two-shot win. Woods was four clear after 54 holes and wrapped up victory with a steady one-under 71 on Sunday. Woods had been given a putting tip by eventual runner-up Steve Stricker before the event and it worked spectacularly as he needed just 100 putts for the week. That was a career-best for Tiger in a 72-hole event.
The leading contenders - and Sky Bet odds
Rory McIlroy (7/1): The story of Rory's 2014 so far is lots of good and sometimes excellent golf but a frustrating inability to finish the job off. That's resulted in runners-up finishes in both Abu Dhabi and also last week's Honda Classic. He also opened with a 63 in Dubai to put himself in glorious position before ending up ninth. The double major winner has reeled off three straight top 10s in this tournament - 8th last year, 3rd in 2012 and 10th in 2011 - and can only boast a win, a second, a third and two other top 10s from his last eight starts in Florida.
Tiger Woods (12/1): After he pulled out of last week's Honda Classic with a back injury it's hard to assess what we should expect from the world number one here. Tiger loved the old Blue Monster (he won in 2005, 2006, 2007 and 2013) while when he pulled out of this eventin 2012 with Achilles trouble and then won two weeks later at Bay Hill. He also complained of back problems in the final round of year's Barclays but battled on to finish second. All that evidence suggests we should not write him off.
Adam Scott (12/1): The Masters champ shook some rust off with a 12th place in the Honda Classic so it's logical to expect him to make a stronger title push here. In this tournament, Scott was third last year, 13th in 2012, 6th in 2011 and 9th in 2008 so it's one he likes. Although there's an idea that Scott peaks for majors it's dangerous to overlook him in other events - especially big ones like this. For the record his last seven strokeplay finishes read: 1-1-3-2-6-8-12. One extra incentive is that he could go to world number one this week with a win (providing Tiger finishes outside the top seven).
Dustin Johnson (16/1): DJ crashed out in the first round of the WGC-Accenture Match Play but of more relevance are his back-to-back finishes in his two starts before that - the first at Pebble Beach, the second at Riviera. He also has a runners-up finish in this event on his CV (2011) while he was 12th last year. A proven winner (he has eight to his name and is still to turn 30), Johnson is also good at adapting quickly to new layouts so must be on the shortlist this week.
Sergio Garcia (16/1): He was never in the running at all last week and needed a pitch and a putt from 100 yards just to make the cut. But a strong weekend by Sergio gave him another confidence-boosting eighth place finish and should set him up nicely for this. A winner in Qatar at the end of January, Sergio has twice finished third in this event (last year and also 2007). He'll probably be glad to see the third hole revamped having hit four balls into the water on the way and racking up a 12 in the final round in 2012! One more Sergio fact: You also have to go back to August to find the last time he finished outside the top 20
Jason Day (20/1): Making his first start since his thrilling and dramatic victory in the WGC-Accenture Match Play, Day should be walking tall in Florida this week. Many would have folded after Victor Dubuisson kept pulling off miracles in their epic final but Day's sheer will to win got him over the line. Now he'll want to add a second WGC title although he's never had better than 20th in this event in three previous starts and has just one top 10 in 14 starts in Florida.
Bubba Watson (22/1): After finally ending his victory drought that had extended back to the 2012 Masters, Bubba may fancy a quick follow-up to last month's triumph at Riviera. Before that the monster-hitting left-hander was second in Phoenix so he's definitely one of the form players of 2014. Watson was the third round leader in this event in 2012 and although he wobbled badly in the final round, an amazing shot through the trees at the final hole gave him a 10 footer to force a play-off. He missed.
Jordan Spieth (22/1): For most in the field, turning up to find a new-look course could throw them off balance. For Spieth, it's the norm. Just about ever week he has to quickly learn a new layout and he continually makes a fantastic job of it. He has form figures of 12-4-19-MC-2-17-2-16 in his last eight strokeplay starts while he also made the quarter-finals of the WGC-Accenture Match Play. True, he did act like a surly teenager in his last eight match but, to his credit, realised and made a quick apology.
Conclusion
Jim Furyk looks to be rounding into some nice form and if he's to hit a peak it could come here.
Yes, the course is radically changed but it has to be to his advantage that at this venue he's reeled off a win, two seconds and a third down the years.
Furyk didn't begin his 2014 campaign until February and said there was some rust to shake off. But, after opening with a 35th at Pebble, he added a 23rd at Riviera and then felt the heat of battle in the Match Play where he reached the quarter-finals.
To be honest, it's no surprise to see him starting to hit his straps again as he closed 2013 out with five top 10s in his last seven starts and also shot a 59 in the BMW Championship.
In other words, he's no back number even though he's not been able to close out wins in recent years - rather strange for someone with 16 PGA Tour titles.
Furyk seems very pleased with his game at the moment so the 50/1 is certainly a good each-way price for someone with his credentials and a zip code in Florida.
Rickie Fowler had a poor start to the season as he tried to implement swing changes but really came to life with a third place finish in the WGC-Accenture Match Play.
The now Florida resident followed that up with four solid rounds - 69-69-69-70 - in last week's Honda Classic so the new swing appears to be bedding in.
In this event he was eighth in 2011 while a pair of opening 69s last year had him 10th at halfway before he faded.
Again, the 50/1 seems more than fair.
Given the course changes, it may not be best to take short odds this week so another at a working price is Webb Simpson at 40/1.
His bare form doesn't look amazing - last 16 in Match Play, 70th at Riviera, 10th in Phoenix but, on the stats, he's first in Par 5 Birdie or Better leaders (there are four to go at this week), second in Strokes Gained - Putting, second in the All-Around ranking and second in Birdie or Better Conversion Percentage.
That suggests there's something brewing and it's worth chancing that it translates into a big finish here.
Simpson shot a pair of 66s to sit eighth after 54 holes on debut in 2012 before fading while he was 20th last year.
A winner on the PGA Tour just seven starts ago, the 2012 US Open champion could well be the one this week.
Beyond those three, Woods (12/1) and Mickelson (28/1) are at prices we don't often see them while European duo Matteo Manassero (12th last week) and Gonzalo Fernandez-Castano (24th at Honda and playing close to his new home this week) could show up well.
A small bet on GFC making the top 20 at 7/2 is worth it as, if successful, will ensure a small profit on the week.
His 35th at Riviera and 24th at Honda, combined with sleeping in his own bed, suggest he can have a strong week.
Best bets
2pts e.w. Jim Furyk at 50/1 (1/4 1,2,3,5)
1pt e.w. Rickie Fowler at 50/1 (1/4 1,2,3,4,5)
1pt e.w. Webb Simpson at 40/1 (1/4 1,2,3,4,5)
2pts Gonzalo Fernandez-Castano to finish in the top 20 at 7/2