WGC-Cadillac Championship: Tiger Woods seeking strong finish to delayed opening round
Tiger Woods hopes he can still post a decent number in his opening round at the WGC-Cadillac Championship at Doral.
Last Updated: 07/03/14 12:59pm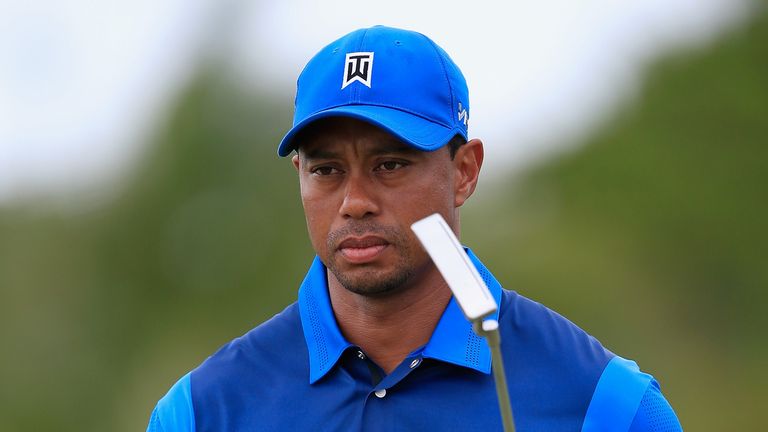 A lengthy delay in the afternoon for bad weather meant the world no 1 only managed to fit in 10 holes but he played them poorly, carding eight pars and two bogeys to end the day at two-over and five off the lead.
Woods, who failed to make a putt over three feet all day on the revamped Blue Monster course in Florida, cut a disconsolate figure as he left the course and said later he accepted he had a long way to go in order to get back into contention.
Barring no more weather problems, Tiger will play 26 holes on Friday and he told the tournament website: "Should be a long day for all of us.
"Hopefully (Friday) I can get back out there in the morning, play well and work back to even par by the end of the first round, then shoot a low one in the afternoon."
Sky Bet aren't so sure Woods can pull it off though and now make him 33/1 to win the tournament.
By contrast, Roy McIlroy came off the course satisfied with his day's work despite a bit of a mixed bag which produced five birdies and four bogeys.
On course
"I said I'd be happy with anything under par from this round and I'm still on course for that," said McIlroy, who still has four holes to complete.
"I'm happy with the way I played and I'd like to get something in the 60s.
"I played pretty good. It was tough out there though with the wind and the firm greens with the moisture on top. It was really skidding. So it was hard when we got back out to control the distance.
"You had to guess a little how much the ball would skip forward. I'll get back out in the morning and play the last three and a half holes without as much wind and with better conditions."
McIlroy is just two off the lead of three-under held by Harris English, Jason Dufner, Hunter Mahan and Francesco Molinari.
English was the only one of the quartet to finish all 18 holes and he did so in style by sinking a 45 foot birdie putt with his last shot of the day shortly after the horn sounded for darkness.
"It was getting really dark, very quickly, but I wanted to finish the hole," English said.
"It really changes the way you approach the day, waking up and playing one hole at 8 in the morning and then waiting around for three or four hours for your tee time is tough to do. That way in the morning, we can have a normal day just like today."